Sigfox has relaunched its Internet of Things (IoT) network in South Africa.
Sigfox South Africa has officially launched its LPWAN operations this week, a year after the previous network operator in the country was wound down.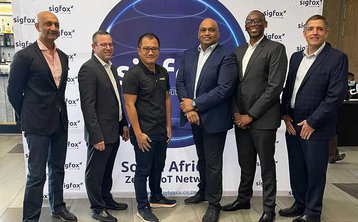 Sigfox's former local operator in South Africa, SqwidNet, launched in November 2016. It started as a partnership between Community Investment Ventures Holdings (CIVH) subsidiary Dark Fibre Africa (DFA) and Sigfox before being moved out of DFA to become a standalone entity under CIVH, which itself is owned by South African investment firm Remgro.
However, SqwidNet was wound down last year amid a reported lack of uptake from customers. ITWeb reports SqwidNet was a loss-making business for its duration and had not reached break even.
As a result, the newly relaunched Sigfox 0G Network in South Africa already covers 95 percent of the population, and 90 percent of national roads, having been built up over the preceding six years.
"When Sqwidnet launched in 2016 as the licensed Sigfox operator for South Africa, it helped establish the credibility of IoT investments in the country. However, in mid-2021, Sqwidnet's stakeholders agreed that the company required a fundamental restructuring to incorporate lessons learned over the previous five years," Sigfox said this week.
The re-established network company is backed by investors comprising CIVH, Discovery Insure, Fidelity ADT, Macrocomm, and Buffet Investments.
"The Sigfox 0G technology is a critical connectivity service in South Africa due to its positive and significant impact on a large value chain that depends on its sustainability and viability locally. The investment from all the partners provides a strong platform and support for use case development, adoption, and accelerated growth," said Sigfox non-executive director and Macrocomm Group CEO Sivi Moodley.
Sigfox non-executive director and CIVH CEO Raymond Ndlovu added: "We've taken past lessons to heart, but we also learned that our customers are loyal and proactive because they see the direct value Massive IoT creates for them and their customers. In technology, you learn from risks and never lose sight of meaningful, market-relevant innovation. This is the ethos of Sigfox South Africa, and we look forward to helping IoT make even more positive impacts for everyone."
Founded in 2010, Sigfox itself filed for insolvency protection in France earlier this year, citing slow sales of its products and challenging conditions in the IoT industry due to Covid-19. Singapore-based IoT network firm Unabiz subsequently acquired Sigfox and its French network operations for a reported €25 million ($27m).
"UnaBiz is pleased to welcome Sigfox South Africa to the global 0G Network Operator community. As one of the fastest-growing IoT markets in the MEA region, Massive IoT adoption has accelerated significantly in South Africa over the last few years. We look forward to working closely with Sigfox South Africa to bring down the cost and complexity of massive IoT adoption in a vast number of sectors including energy, manufacturing, agriculture, healthcare, logistics, etc," said Henri Bong, CEO and co-founder of UnaBiz.
Sigfox South Africa investor Buffet Investments was one of nine companies bidding to acquire Sigfox during its insolvency.