Russian IT firm Liberum Navitas has announced the first three locations of 15 planned data centers across the Federation as the country is being hit with sanctions in retaliation for its invasion of Ukraine.
Liberum Navitas offers consulting services, colocation via partner facilities, and cloud services to customers. Last year the company announced plans to build a network of 15 data centers across Russia at a cost of 48.6 billion rubles ($683.3m).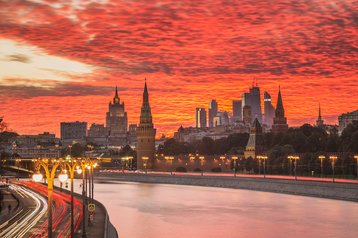 Cnews.ru says the company has now chosen Moscow, St. Petersburg, and Nizhny Novgorod as the first three locations to site the new facilities. Work is underway to select specific sites for construction.
The Moscow facility will span around 31,400 sqm (338,000 sq ft), with the regional data centers expecting to be closer to 16,350 sqm (176,000 sq ft). The company is expecting land acquisition and planning permission for each site will require around seven months in total.
Previous reports suggest each regional data center will host 500 server racks, with Moscow due to house 2,000 racks. The total initial capacity of the project will amount to 9,000 racks, with the potential scope to double the capacity if required.
"The choice of a site for each specific data center as a link in a single federal network is extremely important," said Airat Mustafin, CEO of Liberum Navitas. "There can be no trifles here: everything will have to be taken into account, including proximity to metro stations, the appearance of surrounding buildings, etc. It is gratifying that the regions share our approach and are determined to help implement the project and achieve practical results."
The company plans to build in the following cities; Moscow, St. Petersburg, Murmansk, Kaliningrad, Sevastopol, Sochi, Volgograd, Nizhny Novgorod, Tyumen, Novy Urengoy, Novosibirsk, Krasnoyarsk, Irkutsk, Khabarovsk, and Vladivostok.
The project will be looking to keep development local; Liberum said previously that priority will be given to Russian manufacturers of equipment and software, with up to 80 percent of the budget to be allocated for the purchase of domestic technologies and services. The company has previously said it is working with local energy plant & UPS provider GrandMotors and local optical networking firm T8 for the project.
The news comes as Russia is invading Ukraine. Cyberattacks and outages are being reported on both sides; Russia is being sanctioned and cut off from the global SWIFT banking system and the country is being heavily sanctioned. Telco Ericsson has reportedly suspended deliveries to Russia amid restrictions on exporting electronics to the country.
Intel, AMD, and TSMC have all suspended chip deliveries to Russia.