Websites operated by the Ukrainian defense ministry went down due to a distributed denial of service (DDoS) attack.
PrivatBank, the largest commercial bank in Ukraine, was also impacted by a DDoS attack. The cyber attack comes as Russian troops gather near the border, sparking fears of an imminent invasion.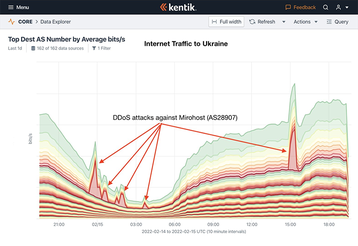 "The Ministry of Defense website was probably attacked by DDoS: an excessive number of requests per second was recorded," Ukraine's defense ministry said on Twitter. "Technical works on restoration of regular functioning are being carried out."
Government agency the Centre for Strategic Communications and Information Security said that the separate Armed Forces of Ukraine website was also down.
The agency also said that PrivatBank was under attack, which is backed up by network monitoring company Kentik. "According to Kentik data, targets include Mirohost (AS28907) which hosts websites of the Ukraine Army, as well as Privatbank (AS15742), one of UA's largest banks," company director of Internet analysis Doug Madory said on Twitter.
In what appears to be a related incident, Cyberpolice Ukraine said that someone was sending text messages to bank customers fraudulently claiming the banking issues were due to technical malfunctions at ATMs.
Despite this, PrivatBank has denied it was targeted by a cyberattack and said that it was "untrue and misleading to our customers." The company added: "We ask our clients and all citizens of Ukraine to remain calm and be guided in their decisions by information from official and verified sources."
The attacks have not been attributed to any group or nation, but come a month after Ukraine accused Russia of defacing or disabling around 70 Ukrainian government websites. Following that attack, Microsoft discovered malware in Ukrainian government systems that could be used to instantly disable services - but the company did not say who made the malware.
"We don't know anything [about cyberattacks]. As expected, Ukraine continues to blame Russia for everything," Dmitry Peskov, press secretary of the President of the Russian Federation, claimed. "Russia has nothing to do with any DDoS attacks."
Approximately 150,000 Russian troops have amassed on the Ukrainian border, with US officials claiming Russian President Vladimir Putin is preparing to invade. This week, Putin said that some troops were returning to their bases, but NATO said it has yet to see real evidence of de-escalation.
The US embassy in the Ukrainian capital of Kyiv is being closed and moved 340 miles west to Lviv, and officials have begun destroying IT equipment to ensure that no data could be recovered by hostile forces.