An American social media platform favored by the alt-right has acquired a cloud-services provider to build an 'uncancelable' web.
Parler, which was kicked off of AWS after the attack on the US Capitol, has acquired California-based Dynascale, which operates 50,000 square foot (4,645 sqm) of data center space.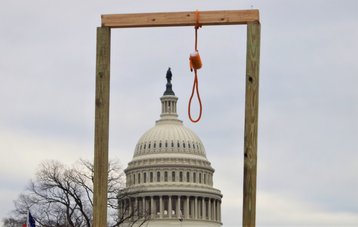 Parler said that it had raised $16 million alongside the acquisition, and has created a new parent company, Parlement Technologies.
"We believe that Parlement Technologies will power the future. And the future is uncancelable," Parlement Technologies CEO George Farmer said.
The data center is also used by Cloudtrek and Alchemy Data Centers, both of which share Dynascale's Igor Shalkevich as president. DCD has contacted the company for clarification on the business structure.
Alchemy claims to operate three data centers, including a 42,500 sq. ft. facility in Irvine that was built in 1989. The other two sites appear to be spaces in a QuadraNet data center and in a Gigabit Data Center in Los Angeles. Cloudtrek's website, meanwhile, simply has an embedded video of Switch's Las Vegas data center.
On his LinkedIn page, Shalkevich says that as chief development officer at Parlerment he will help build a company that is "a guiding force in the fight against Big Tech, Big Government, censorship, and cancel culture."
Currently, the company hosts Parler and DeepRedSly, an NFT marketplace that appears geared towards Donald Trump supporters. If Alchemy has joined the business, it claims that its customers include MTV, Warner Bros., 'For Dummies,' and the Ronald Reagan Presidential Foundation and Library.
Parler originally pitched itself as an alternative to Twitter with less moderation, but soon devolved into a space where users were free to openly incite and plan acts of mass violence, post racist diatribes, and peddle patently absurd conspiracy theories.
It was hosted by Amazon Web Services, but dropped after mounting pressure following the right-wing siege of the US Capitol that led to five deaths. The app was also removed from Google and Apple's app stores.
"Recently, we've seen a steady increase in this violent content on your website, all of which violates our terms," Amazon's Trust and Safety team told Parler in early 2021.
"It's clear that Parler does not have an effective process to comply with the AWS terms of service... Given the unfortunate events that transpired this past week in Washington, D.C., there is serious risk that this type of content will further incite violence." Following the removal of the platform, users threatened to blow up AWS data centers.
Parler unsuccessfully sued AWS to be reinstated, and shifted to the QuadraNet facility in LA that Alchemy uses - but in a contract with reseller SkySilk. At the time QuadraNet CEO Ilan Mishan told DCD that "Parler is NOT hosted in any of our facilities or using any of our infrastructure," but declined to confirm if SkySilk is a customer, which then resells the space and services to Parler.