The Raxio Group has broken ground on a new data center in Maputo, Mozambique.
The company this week announced the groundbreaking of Raxio MZ1, which will be the country's first carrier-neutral, privately-owned facility. The 250-rack, Tier III quality facility is located in the Beluluane Industrial Park and is set to launch in 2023.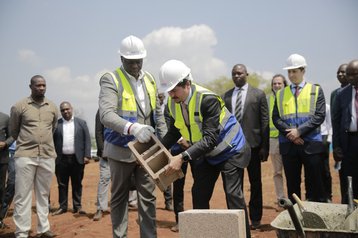 Robert Mullins, CEO of Raxio Group, said "We're delighted to break ground on another facility, which demonstrates Raxio's commitment to serving the region's economy and digital transformation journey. We are looking forward to supporting the country's digital growth by developing the first hyperscale ready colocation data center that will be operated by a team of highly skilled Mozambican professionals. Our site at the MozParks Industrial Park provides us with an ideal operating environment, with prime access to connectivity and power infrastructure, as well as the possibility to supply our site largely from renewable energy sources, allowing us to further our ambitious ESG goals."
Master Power Technologies, which entered a long-term partnership with Raxio last year, will lead on mechanical and electrical works. General Contractor Mota Engil will be responsible for the civil works, with Keyplan Associates as the local architect.
First announced in 2021, Raxio said it expects to build additional facilities in Mozambique in the coming years.
Digital Realty's iColo unit announced earlier this year that it will enter Mozambique and is to develop a data center in the capital Maputo. Digital Realty's existing joint venture with Pembani Remgro Infrastructure Fund, closed on the acquisition of a land parcel in the city during the third quarter for $3 million and aims to build a 0.4MW, 3,900 sq ft facility.
Established in 2018, Raxio Group is part of the US-based Roha Group investment firm. The Maputo data center is the latest in a series of expansions the company has announced across Africa in the last 18 months, including facilities in Tanzania, Uganda, Mozambique, the Ivory Coast, DRC, and Ethiopia. The company received a $48 million investment in 2021 from Meridiam.
More in Construction & Site Selection