In a wide-ranging State of the Union address, US President Joe Biden praised semiconductor maker Intel and called on Congress to pass chip and infrastructure legislation.
He also said that he had spoken to Intel CEO Pat Gelsinger, and that the executive was in the audience during the speech.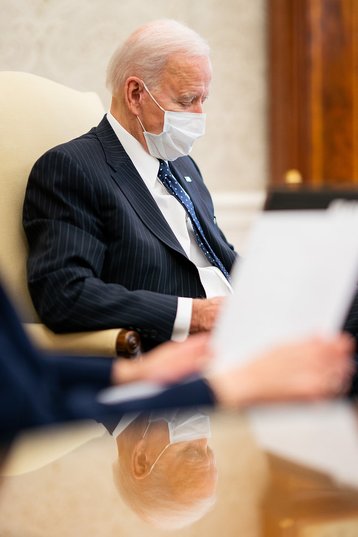 "To compete for the jobs of the future, we need to level the playing field with China and other competitors," Biden said.
"That's why it is so important to pass the Bipartisan Innovation Act sitting in Congress that will make record investments in emerging technologies and American manufacturing. We used to invest two percent of our GDP in research and development. We don't now. China is."
He continued: "Let me give you one example of why it's so important to pass it. If you travel 20 miles east of Columbus, Ohio, you'll find 1,000 empty acres of land.
"It won't look like much, but if you stop and look closely, you'll see a field of dreams, the ground on which America's future will be built.
"That's where Intel, the American company that helped build Silicon Valley, is going to build its $20 billion semiconductor mega-site."
Biden detailed the size of the chip fabrication plant - up to eight factories, and ten thousand jobs, with an average salary of $135,000.
He added: "Intel's CEO, Pat Gelsinger, who is here tonight — Pat told me they are ready to increase their investment from $20 billion to $100 billion.
"That would be the biggest investment in manufacturing in American history. And all they're waiting for is for you to pass this bill.
"So let's not wait any longer. Send it to my desk. I'll sign it. And we will really take off in a big way.
"And folks, Intel is not alone."
With the 'Bipartisan Innovation Act,' Biden is actually referring to what will come out of talks between the House and the Senate.
Last year, the Senate narrowly passed the US Innovation and Competition Act, and this month the House of Representatives passed the America Competes Act. Both now need to be reconciled into one bill.
Both include $52bn in funding for the semiconductor industry, much of which would likely go to Intel as it shifts from just making chips for itself to becoming a third-party foundry business. The company is also planning to build outside the US with government incentives, including a potential $90bn European expansion.
Also of note in the America Competes Act are programs for data center energy efficiency, post-exascale supercomputing & AI, and a $400m quantum networking push.
Biden hopes to find more success with the Innovation Act than in his flagship Build Back Better bill that collapsed in December. It also included a version of the Facilitating American-Built Semiconductors (FABS) Act that would have pumped money into domestic chip production as the world suffers from a global semiconductor crisis and US production stalls.