Intel has confirmed reports that it is building a $20 billion semiconductor fabrication plant in Columbus, Ohio.
Company CEO Pat Gelsinger told Time that he planned for the location to grow significantly, and could spend as much as $100bn on the site over the next decade. The facilities mark the largest single private investment in the state.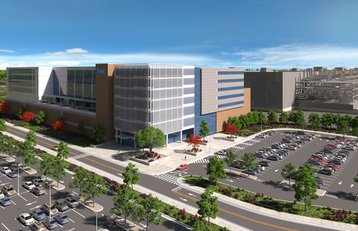 "Our expectation is that this becomes the largest silicon manufacturing location on the planet," Gelsinger told the publication. The company has the option to expand to 2,000 acres and up to eight fabs, should it choose. "We helped to establish the Silicon Valley," he said. "Now we're going to do the Silicon Heartland."
The initial plan is for two fabs on 1,000 acres, employing at least 3,000 people. Construction at Licking County will begin this year, with the first phase ready by 2025.
The company hopes to take advantage of a global chip shortage to score incentives - on top of those given by Ohio. "The scope and pace of Intel's expansion in Ohio... will depend heavily on funding from the CHIPS Act," Keyvan Esfarjani, Intel senior vice president of Manufacturing, Supply Chain, and Operations.
Esfarjani is referencing a $52 billion subsidy package for the chip industry that was passed by the Senate last June, but since has stalled in the House. A version of the Facilitating American-Built Semiconductors (FABS) Act that was put into the Build Back Better bill has also remained on the drawing board after Biden's flagship bill collapsed in December.
Intel's Ohio site, which joins a $20bn expansion in Arizona and a huge European buildout, is part of the company's efforts to reinvent itself as a business that builds chips for others. It already has factories in Oregon, New Mexico, and Ireland, and is building in Malaysia.
But such efforts are fraught with challenges - namely that Intel cannot even make advanced enough chips to meet its own demands, forcing it to turn to rival Taiwan Semiconductor Manufacturing Co (TSMC).
After struggling to develop 7nm chips and delaying roadmaps, it signed with TSMC last year for its high-end manufacturer. However, it hopes for the deal to be temporary, as it catches up (TSMC, meanwhile, is developing 5nm and 3nm chips - and will spend $44bn this year on fabs).
Intel also hopes to win over customers by licensing out the x86 chip architecture, currently only available to Intel and AMD.