Australian data center firm DXN has sold to Flow, the new data center investment platform from investment manager PAG Real Estate.
ASX-listed DXN currently operates three data centers; the 4,351 sqm (46,800 sq ft), 5.5MW DXN-SYD01 in Sydney, a second facility in Hobart, Tasmania, and a 350 sqm (3,700 sq ft) bunker with two data halls in Darwin. The company has also delivered more than 18 modular data centers to customers including Boeing and Covalent Lithium.
In an ASX update this week, DXN said its directors have unanimously voted that all its business assets and subsidiaries were to be sold to Flow2Edge Australia for approximately AU$26 million ($18m) in cash. The deal included shares in subsidiaries TAS01 (which holds DXN's Tasmania facility) and Secure Data Centre (which holds DXN's facility in Darwin) and all units in the SDC Unit Trust.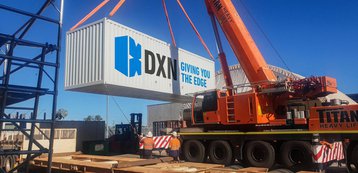 A further update suggests DXN will be wound up after the sale; DCD understands Flow2Edge will be the local entity under Flow Digital Infrastructure.
PAG said the deal will be funded via resources from PAG-managed funds. DXN said it plans to raise AU$2.125 million (US$1.5m) through the issuing of shares to fund its working capital until the completion of the deal.
John Baillie, DXN Chairman, said: "We have not taken this decision lightly. This transaction is not only a good offer, it also enables us to address the capital requirements for the business going forward. Further, it leverages the experience and footprint of Flow Digital Infrastructure. We are excited about the opportunities this will create for customers."
Kris Kumar, Flow Chairman, said: "This is an exciting opportunity for Flow as we expand our footprint and enhance our capacitances to better serve our customers. The acquisition will enable us to leverage DXN's superior Edge design and construction abilities, allow us to control our supply chain, and deliver Edge as a service in the APAC region. This is a key milestone for us as we continue to strategically invest in digital infrastructure to meet the rapidly growing demand of our market.
The deal is subject to approval from the Foreign Investment Review Board and DXN shareholders. The company said an independent review concluded the sales to Flow is "fair and reasonable to, and in the best interests of, DXN shareholders.
"Accordingly, in the absence of a superior offer...the Directors believe the transaction is in the best interests of the shareholders and unanimously recommend shareholders vote to approve the transaction," the company said.
Asia-focused investment manager PAG Real Estate launched Flow, a new investment platform focused on digital infrastructure in APAC, in late 2021. The unit is led by former ChinData and Bridge Data Centres executive Kris Kumar. Based in Singapore, the team is focused on Japan, Australia, and other Asian markets. Flow recently announced a partnership with Ayala Land to develop data centers in the Philippines.
PAG is reportedly one of several companies potentially interested in acquiring Global Switch.