Australian data center firm DXN has acquired a data center in Darwin and received investment from Singaporean data center firm DC Alliance.
The ASX-listed company currently operates two data centers; the 4,351 sq m (46,800 sq ft), 5.5MW DXN-SYD01 in Sydney, and a second facility in Hobart, Tasmania.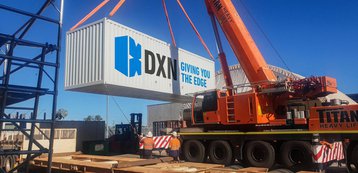 The company this week acquired the Secure Data Centre in Darwin, Northern Territories, for AU$4.88million (US$3.6m).
In operation for 17 years, SDC is a 350 sq m (3,700 sq ft) bunker with two data halls. DXN said the facility currently has 70 racks occupied by government, telecoms, and commercial customers, with scope to expand to 127 racks.
"Our goal is to continue to expand our carrier-neutral Edge data center footprint in Australia, the South Pacific, and SE Asia," said Matthew Madden, CEO of DXN. "This is expected to include fully-owned facilities and facilities built or managed on behalf of third-party owners."
"The agreement with DXN helps us realize the potential for SDC," added Paul Grist, managing director of SDC. "In connecting with a national and international network, SDC will become a gateway into the Northern Territory. We are really proud of what we have achieved but are very excited about the journey ahead."
The company also announced plans to raised AU$7.1 million (US$5.2m) through a share placement and AU$4 million in debt. As part of that raise, Singapore data center firm DC Alliance has invested AU$1.25 million and formed a partnership with the company.
DXN and DCA are also working towards an agreement to establish a strategic alliance to cross-sell their Australian data center assets. The companies aim to work together to market and sell data center services, colocation racks, and connectivity from DXN's Sydney facility and DC Alliance's Perth data center.
"I have always seen DXN as the most suitable partner for DC Alliance and I am pleased that this vision is now set in motion with our commitment as a strategic shareholder and finalizing a binding agreement," said Roy Wong, executive chairman of DC Alliance. "I strongly believe it will be a win-win relationship and it is our common goal to grow and achieve greater heights together with our complementary skills, solutions, and network."
DCA will also have the option to subscribe for a second tranche of shares valued at AU$1.25 million.
DXN's Madden added: "DC Alliance have a great Tier III data center in Perth which would perfectly complement our Tier III data center in Sydney. Furthermore, DC Alliance's presence in Singapore will be a great springboard for expansion to the rest of Asia."