The acquisition of Australia's DXN by PAG's Flow unit has been dropped entirely.
In August, Asia-focused investment manager PAG Real Estate said its digital infrastructure unit Flow would acquire Australian data center firm DXN for AU$26 million ($18m) in cash. DXN said it planned to wind down the company after the sale had been completed.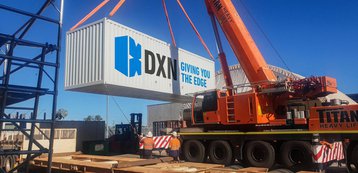 The following month, the deal was amended to see Flow only acquire DXN's modular manufacturing unit, with the latter retaining the colocation business.
However, the deal has now been completely abandoned.
"In accordance with the terms of the sale agreement, Flow has provided notice to the company the condition precedents to completes of the sale agreement cannot be satisfied," DXN said in an update to the ASX this week. "The announced transaction therefore cannot proceed in its current form and the sale agreement will be terminated."
DXN said the board intends to 'consider alternative strategic options' for its Edge module manufacturing business, potentially including partnerships with Flow.
The company has delivered more than 18 modular data centers to customers including Boeing and Covalent Lithium.
The company also said it has received 'non-binding indications of interest' to acquire its data center business. Negotiations are ongoing with interested parties but are reportedly in their early stages.
ASX-listed DXN currently operates three data centers; the 4,351 sqm (46,800 sq ft), 5.5MW DXN-SYD01 in Sydney, a second facility in Hobart, Tasmania, and a 350 sqm (3,700 sq ft) bunker with two data halls in Darwin.
In a statement sent to CRN, DXN chief executive Shalini Lagrutta, said: "While the DXN team are disappointed that the Flow sale could not be consummated due to a condition precedent not being met as a result of circumstances beyond our control, Flow Digital has reiterated to us that it remains committed to forming a relationship with DXN for its international market expansion."
"This is evidenced by current negotiations on a new commercial agreement which would involve recurring revenue for DXN's modular data centers for international markets that Flow are focused on, leveraging DXN's core expertise and customer relationships which we have amassed over the years."
PAG launched Flow, a new investment platform focused on digital infrastructure in APAC, in late 2021. The unit is led by former ChinData and Bridge Data Centres executive Kris Kumar. Based in Singapore, the team is focused on Japan, Australia, and other Asian markets. Flow recently announced a partnership with Ayala Land to develop data centers in the Philippines.
PAG is reportedly one of several companies potentially interested in acquiring Global Switch.