OneWeb's operating losses for the year increased by 631 percent due to the scrapping of several launches from Russia and the fact the unlaunched satellites haven't been returned to the company.
The company had been due to launch 36 satellites in early March via a Soyuz rocket from a Russian-owned launchpad in Baikonur, Kazakhstan. But, in the wake of Russia's invasion of Ukraine, Russian space agency Roscosmos said it was limiting access to its Soyuz rockets – the type used by OneWeb's original launch partner Arianespace. The agency then demanded the UK government divest its stake in OneWeb.
In response to Roscosmos' actions, the satellite firm announced it was no longer launching its satellites from the facility. A total of six launches from the facility were canceled. The company revealed this week that the satellites that were due to launch haven't been returned to the company.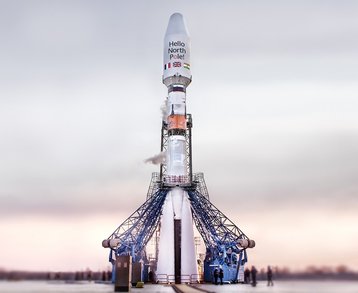 In its annual report for 2022, the company noted an impairment charge of $229.2 million to reflect the losses suffered "as a result of the postponement of a planned launch on 4 March 2022, the associated postponement of subsequent scheduled launches, the loss of satellites not returned to the group, and the impairment of a portion of the Group's prepaid launch insurance."
The report noted that "negotiations are ongoing" with vendors for the recoverability of satellites and undelivered services: "As the outcome of these negotiations is uncertain, no asset has been recognized," the company said.
"Our shareholders were steadfast in supporting the business whilst it navigated the impact of this postponement. The business pivoted quickly to source replacement launches from the international market in a matter of weeks and this effort has been recognized by our investors, distribution partners, vendors and the wider industry," OneWeb Chairman Sunil Bharti Mittal said in the report.
For the year the company posted revenues of $9.6 million, an EBITDA loss of $186.9 million, an operating loss of $425.9 million, and a net loss of $389.8 million. The company's capital expenditure was $667.1 million.
OneWeb, which is due to merge with Eutelsat, signed a total of 37 distribution partner agreements, with total committed orders of more than $300 million.
OneWeb has signed a launch agreement with rival satellite firm SpaceX to launch satellites from the latters' rockets from the US, as well as a second launch agreement with New Space India. The company aims to achieve global coverage by 2023.
The company has eight operational Satellite Network Portals (SNPs) which serve the live coverage area and has agreements to build 38 SNPs in 27 different countries.