French satellite firm Eutelsat is to acquire Low Earth Orbit satellite operator OneWeb.
The two companies announced this week that Eutelsat Communications and key OneWeb shareholders have signed a Memorandum of Understanding with the objective of merging.
Reports of merger talks surfaced over the weekend with Euronext-listed Eutelsat confirming talks were ongoing earlier this week.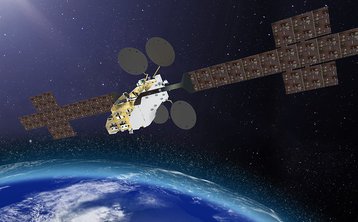 Under the deal, OneWeb will issue new shares in the company, which Eutelsat will own 100 percent of, taking its total stake in the company to 50 percent.
Eutelsat will combine its 36-strong fleet of GEO satellites with OneWeb's constellation of 648 low Earth orbit satellites, of which 428 are currently in orbit.
The MoU has been unanimously approved by each of Eutelsat's and OneWeb's board of directors, and the transaction is expected to close by the end of the first half of 2023.
Dominique D'Hinnin, Eutelsat's Chairman said: "I am delighted to announce this new and significant step in the collaboration between Eutelsat and OneWeb. Bringing together our two businesses will deliver a global first, combining LEO constellations and GEO assets to seize the significant growth opportunity in connectivity."
Euronext Paris-listed is already a significant shareholder in OneWeb, having invested $550 million into the company in April 2021 and becoming OneWeb's second-largest shareholder last December after investing a further $165 million; today Eutelsat owns around 23 percent of OneWeb.
Sunil Bharti Mittal, OneWeb's Executive Chairman added: "Our customers are actively seeking a combined GEO/LEO offering leading us towards this important step. Bharti, as the lead shareholder of OneWeb, along with other key shareholders, is looking forward to playing a meaningful role in providing expanded connectivity through the combination of OneWeb and Eutelsat."
The combined entity would have revenues of circa €1.2billion ($1.2bn) and EBITDA of circa €700m ($700m) in FY22-23. Trading under its existing name, OneWeb will continue to operate the LEO business and remain in the UK. Eutelsat will continue to be based in France, listed on Euronext Paris, and would apply for trade on the London Stock Exchange.
Eva Berneke, Eutelsat's chief executive officer, said: "Our initial investment in OneWeb was underpinned by our strong belief that the future growth in connectivity will be driven by both GEO and LEO capacity. We are now moving to the next level, with a full combination that will ensure the potential of the GEO/LEO integration is fully realized, supported by compelling financial, strategic, and industrial logic."
Neil Masterson, OneWeb's Chief Executive Officer said: "Just 20 months ago, OneWeb resumed its mission to connect the unconnected and remove the barriers to connectivity that hold back many of the world's underserved economies and communities. Since then, we have turned this vision into reality and become the second largest low Earth orbit satellite operator in the world. Today's announcement is another bold step in OneWeb's remarkable journey."
The UK government will retain a 'Special Share' in OneWeb.
Eutelsat is assisted by d'Angelin & Co., Perella Weinberg Partners and Rothschild & Co as financial advisors. Eutelsat is advised by Weil Gotshal & Manges (Paris and London) for all legal aspects of this transaction.
OneWeb is assisted by Barclays as financial advisor. OneWeb is advised by Herbert Smith Freehills LLP as its legal advisor for all aspects of this transaction.