Eutelsat Communications has invested $550 million into Low Earth Orbit (LEO) satellite firm OneWeb.
The French Satellite operator has taken a 24 percent stake in the firm, alongside the UK Government, Bharti Global, and SoftBank.
"We are excited to become a shareholder and partner in OneWeb in the run-up to its commercial launch later in the year and to participate in the substantial opportunity represented by the LEO segment within our industry," said Eutelsat CEO Rodolphe Belmer.
"We are confident in OneWeb's right-to-win thanks to its earliness to market, priority spectrum rights, and evolving, scalable technology. With more than 40 years' expertise in the global satellite industry, we look forward to working alongside the UK Government, Bharti, and the other shareholders to open new opportunities and market access to ensure OneWeb maximizes its potential."
For more breaking data center news, features, and opinions, be sure to subscribe to DCD's newsletter
OneWeb, four investors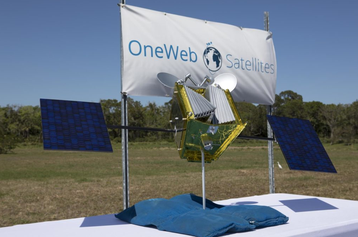 Sunil Bharti Mittal, founder and chairman of Bharti Enterprises, said: "We are delighted to welcome Eutelsat into the OneWeb family."
"Together we are stronger, benefiting from the entrepreneurial energy of Bharti, the extensive global outreach of the UK Government, and the expertise in the satellite industry at Eutelsat. OneWeb, with its innovative and disruptive approach, is poised to take a leading position in LEO broadband connectivity."
OneWeb recently launched another 36 satellites into its constellation, bringing the system to 182 satellites currently in orbit out of a total 648 planned for launch. The company says it only requires two more launches to start connectivity services to the United Kingdom, Alaska, Northern Europe, Greenland, Iceland, the Arctic Seas, and Canada, with global service following next year. The company anticipates annual revenues of 'approximately $1 billion in year three or soon thereafter.'
OneWeb CEO Neil Masterson said the company now has 80 percent of the necessary financing for its Gen 1 fleet, of which nearly 30% is already in space. He added that Eutelsat's global distribution network "advances the market entry opportunities for OneWeb."
UK Business Secretary Kwasi Kwarteng said the new investment was "another giant leap forward" for OneWeb.
"Eutelsat brings more than forty years of experience in the global satellite industry and this exciting new partnership puts OneWeb on a strong commercial footing, and the UK at the forefront of the latest developments in low Earth orbit technology."
SoftBank invested $1 billion in OneWeb in 2016, with the UK Government pumping $500 million in the company after its bankruptcy last year.