Low Earth Orbit (LEO) satellite firm OneWeb has signed a new distribution deal with mu Space to cover Southeast Asia.
OneWeb this week announced a 'multi-million, multi-year deal' with the aerospace manufacturer and satellite ISP to deliver the satellite firm's connectivity solutions across mainland Southeast Asia, including Thailand, Laos, Cambodia, Vietnam, and Malaysia.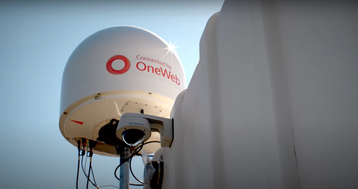 Founded in 2017, mu Space will distribute services to enterprises with applications in remote communities, land mobility, maritime, and backhauling.
James Yenbamroong, CEO and CTO of mu Space Corp, said: "We are excited to announce this exclusive partnership as it signifies our strong and excellent relationship with OneWeb. The expansion of broadband Internet connectivity to remote areas that lack connections is crucial and we're glad to be part of making this possible through space and ground technologies. Our expertise and knowledge of our region, as well as innovative technology, enable mu Space to tailor solutions to provide an ideal supplement to each sector in each nation."
Neil Masterson, OneWeb CEO, added: "We are excited to partner with such a dynamic company that is so well aligned to our goals to further our reach across Southeast Asia and connect even more communities and enterprises. This international partnership marks another significant milestone for OneWeb as we look towards activating full global coverage later this year."
Wholesale-focused OneWeb has signed dozens of distribution deals globally, including with the likes of Veon and the government of Uzbekistan to cover regions in central Asia as well as Hughes & Bharti Airtel in India.
In other space news:
- Rivada Space Networks, which recently ordered 300 Ka-band satellites for its planned LEO satellite constellation, has announced it will use Aalyria's Spacetime orchestration platform.
Aalyria was spun off from Alphabet last year, offering networking and communications originally developed for Google's now-defunct Project Loon. Rivada is the company's second publicly confirmed customer after the DoD's Defense Innovation Unit. Spacetime will help Rivada ensure communications between any two user terminals in the world through real-time analysis of millions of possible paths.
Chris Taylor, CEO of Aalyria, said: "We built Spacetime to dynamically route communications across anything that flies or moves, on Earth or in space, to expand connectivity to people, places, and things that were previously thought unconnectable. We're excited to add Rivada to our roster of world-class partners and look forward to working with them in the coming years."
- OQ Technology plans to grow its LEO constellation from three to ten satellites later this year. The company provides 5G NB-IoT connectivity services from orbit.
As well as the previously announced "MACSAT" and "PHI-Demo" satellites, the company is adding a further five 6U nanosatellites, known as Tiger-4 to Tiger-8, which the company has already.
- Uz-Sat, a joint venture between Uzbektelecom, Satellin Group, and local Uzbek enterprises, has selected Hughes' Jupiter System to provide satellite connectivity in the country.
Uz-Sat will employ Jupiter gateways and terminals to bring broadband connectivity via geostationary satellites to remote and rural parts of the country.
- Embratel has partnered with Speedcast to provide satellite connection to cruise ships in the Caribbean region.
The agreement provides for the use of 198MHz (equivalent to five and a half transponders) in Ku Band from Star One D2, Embratel's satellite, to provide Internet on board, and connection between the vessels and the Speedcast teleport.
- Delta Airlines has chosen Viasat as its inflight WiFi partner. The satellite firm's in-flight connectivity (IFC) solution will be installed on more than 1,000 Delta aircraft.
- Ground station technology firm Gilat Satellite Networks has acquired DataPath, a provider of communications and systems integrations for the US DoD Military and Government sectors.