A new AI startup from Intel's former chief architect Raja Koduri is in potential acquisition talks with Indian data center firm Yotta Infrastructure.
Reuters reports that Koduri's yet-to-be-named generative AI firm would either partner with or acquire Hiranandani-owned Yotta. Terms of any potential deal were not shared and it's unclear how much funding the new startup has.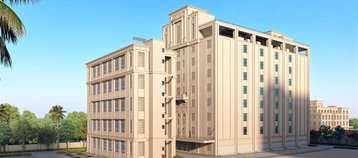 The company is likely to be launched by the end of the year and will provide AI tools to creators including game designers and film industry workers in a challenge to Nvidia, he told the publication.
"These days if you breathe you're competing with Nvidia because they have entered every space, everything, so you have no option but to compete against," he said.
Koduri plans to build local data centers to enable easy access to the large amount of computing power needed for generative AI tools.
Yotta currently operates a 50MW campus in Mumbai; at full build-out, the campus will have five buildings spread over 24 acres with the capacity for 7,000 racks. It also recently launched a campus in Noida that will eventually span six buildings and offer 160MW. The company is planning further facilities in Chennai, Delhi, Bengal, Gujarat, Pune, Powai, and Kolkata. The company is also planning a campus in Bangladesh.
Koduri has been in the chip industry for decades focused on GPUs, holding multiple roles at AMD, Apple, and Intel since the turn of the millennium. He left the chip giant in March 2023 to focus on this new project.
"It pains me that most of these tools are still trained on only one company's GPUs [i.e. Nvidia], and deployed on one company's GPUs, even though so much other hardware is available," he told BizJournal recently. "Maybe rather than retire, I do a software startup that focuses on leveraging AI for content creation — which is kind of my passion — and make connections to the film industry, media, and entertainment."
Elsewhere in India, Bloomberg reports that Adani's joint venture with EdgeConneX is in talks with about half a dozen banks for a loan of $220 million.
This would be the conglomerate's first offshore borrowing since short-seller Hindenburg Research published a detailed investigation that alleged stock manipulation, accounting fraud, and money laundering.
AdaniConneX will reportedly use the money for capital expenditure, with a five-year tenor under discussion.