India's Yotta Infrastructure has launched a new data center in Noida, in Uttar Pradesh.
The Hiranandani Group-owned company this week announced the inauguration of Yotta D1, its first data center on its Noida campus.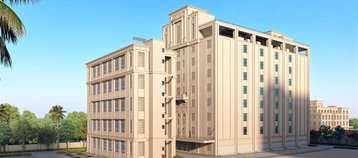 The seven-story data center spans 300,000 sq ft (27,870 sqm) and offers an IT load capacity of 28.8MW and space for 5,000 racks.
The launch ceremony was attended by Chief Minister of Uttar Pradesh, Yogi Adityanath and Rajeev Chandrasekhar, Union Minister of State for Electronics & IT and Skill Development & Entrepreneurship.
The first of six data center buildings in the 160MW, 20-acre Greater Noida data center park, the facility was built in 20 months with an investment of Rs 1,500 crore ($181.6m).
The foundation stone laying ceremony of the next two data center buildings – Yotta D2 & D3 – was also performed during the launch ceremony.
Construction on the first building in the $950 million Data Center Park began in January 2021; work on the second and third buildings was originally set to begin in January 2022. The two buildings will have 30MW of capacity each and will be ready to go live in January 2024.
Darshan Hiranandani, co-founder & chairman, Yotta Infrastructure, said: "India is poised to create up to $1 trillion of economic value from the digital economy by 2025, and North India is already a preferred destination for Fortune 500 companies. Recognizing the region's potential and underserved data center demand, Yotta has made continued investments in setting up the Greater Noida data center park, laying a robust foundation for the Digital India growth story."
Sunil Gupta, co-founder & CEO, Yotta Infrastructure, added: "We are delighted to launch Yotta D1 – the first state-of-the-art data center in the region. Serving as North India's gateway to the Digital World, Yotta D1 will cater to the full spectrum of digital transformation needs with an elaborate portfolio of solutions. Continuing Yotta's core mission, Yotta D1 will serve a broad customer segment, including enterprises, hyperscalers, governments, and startups."
Yotta currently operates a 50MW campus in Mumbai; at full built-out, the campus will have five buildings spread over 24 Acres with capacity for 7,000 racks. The company is planning further facilities in Chennai, Delhi, Bengal, Gujarat, Pune, Powai, and Kolkata.
Gupta told Mint that Yotta is also developing a cloud platform. The company is reportedly currently beta testing its cloud hosting platform, and aims to offer the service to small businesses and government organizations in India.
"We are looking for all-round indigenization in our business. Alongside offering large data center facilities, we are presently in the beta testing phase of developing our own cloud hosting platform," he said. "Our goal is to offer a homegrown cloud hosting platform for small business and government organizations, while offering shared server rack space to the global giants."
Gupta also said Yotta has entered a partnership with state-run telecom operator Bharat Sanchar Nigam Limited (BSNL) which will see Yotta converting the telco's infrastructures and buildings across the country into Edge data center facilities. An official announcement is due in the coming weeks.