Microsoft has launched two new data centers in Cheyenne, Wyoming.
The company announced the new facilities – one in the Cheyenne Business Parkway and another in Bison Business Park — to support its West Central US Azure region.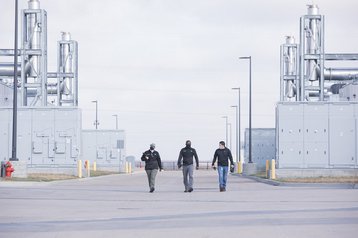 "Expanding Microsoft's digital capabilities in Wyoming will allow us to meet the demand for new and existing customers in the region, and we're excited to continue supporting the growth of diverse businesses in the state and look forward to working with state and local leaders on initiatives that can foster job creation and economic opportunity," said Sergio Loureiro, Microsoft's VP of core operations for data centers.
The company said sustainability was important and it was making "significant efforts" in water conservation and preserving Cheyenne's water resources through adiabatic cooling and donations to local organizations working on preserving the region's watershed.
"In addition to building data centers, Microsoft is investing in new water, sewer, and road infrastructure to create easier access to Bison Business Park, which will also support the growth of new businesses in Wyoming," added Loureiro.
Microsoft has had a data center presence in Wyoming since 2012 and expanded its footprint there in 2014. The West Central Azure region opened in 2016; the site currently only has one Availability Zone so the new facilities should see that upped to the standard three.
Cheyenne is also the site of Microsoft's 'Data Plant' concept to create an off-grid data center powered by methane that opened in 2014.
"The growth of the data center industry in Wyoming has been led by Microsoft and it is coming to represent a significant sign of the continued diversification of our economy. I appreciate Microsoft's commitment to Wyoming and thank them for the benefits they have brought to multiple sectors of our economy," said Wyoming Governor Mark Gordon. "Governor Mead was the inspiration for bringing the first Microsoft Data Center to the state in 2012. The incentives that set this train in motion are working. This is a sector of our growing economy that continues to pick up steam."
"Additional data centers are a great win for Cheyenne and all of Laramie County," added Cheyenne Mayor Patrick Collins. "With it comes more high tech opportunities, a skilled workforce, and expands upon Microsoft's existing economic impact to our community."
More in Construction & Site Selection