Meta – the parent company of Facebook, Instagram, and WhatsApp – appears set to become the first tenant of a new large data center campus in Kansas City, Missouri.
Plans for a Golden Plains Technology Park (also known as Project Velvet) were first submitted last year. Local developer Diode Ventures, a subsidiary of Black & Veatch, aims to develop up to 5.5 million square feet (510,000 sqm) of data center construction with 16 buildings built in three zones.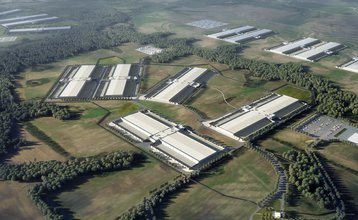 Biz Journal reports Meta is due to occupy more than 375 acres of the campus, and plans to develop three buildings on the park.
Meta's tenancy has not been publicly announced, but multiple real estate sources said they were aware of its plans, according to BJ.
The Golden Plains park is being proposed on more than 760 acres of undeveloped land along Platte and Clay Counties to the north of the city, located at the southwest corner of the intersection of N.W. 128th Street and US Highway 169. The campus would reach full operational capacity in 2032.
As well as Diode, plans filed with county officials included a company called Velvet Tech Services, LLC, a shell company registered through Delaware-based Corporation Service Company and now likely revealed as Meta.
BJ reports the first phase of development in one of the three regions would see three data center buildings constructed on a 375-acre plot. It's unclear if Meta will occupy the other two regions of the park.
In a committee meeting last month, an attorney representing Velvet Tech Services, said a water main extension would allow for the development of Project Velvet's first two buildings, shown in the approved plans as a 601,955-square-foot data center and 50,000 sq ft ancillary building. A second-phase extension then could service two more 601,955-square-foot data centers.
Those familiar with the project said Meta's interest in a data center around Kansas City dates back roughly five years. Facebook had scouted possible land sites on both sides of the state line, including in Clay, Platte, Johnson, and Wyandotte counties.
Last year Kansas City Council approved up to $8.2 billion in tax incentives for the project.
After a large expansion spree in 2021, 2022 has seen the company formerly known as Facebook announce plans to expand its Gallatin data center campus in Tennessee, announce a new data center in Idaho, and quietly plan a new campus in Spain.
More in Construction & Site Selection