Local developer Diode Ventures, a subsidiary of Black & Veatch, has been granted tax incentives on plans to build a massive data center campus in Kansas City, Missouri.
The plans were first submitted last year, but Kansas City's Transportation, Infrastructure and Operations Committee approved the proposals this week. The city council will vote on the proposal on April 29. Construction will start later this year if granted approval by the council.
Click here to download the latest issue of DCD's magazine
Golden Plains Technology Park close to approval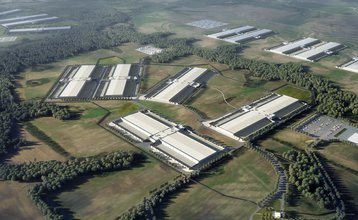 The Golden Plains Technology Park will be located in both Platte and Clay Counties and would see 5.5 million square feet (510,000 sqm) of data center construction with 16 buildings built in three zones. The site is being proposed on 766.82 acres of undeveloped land located at the southwest corner of the intersection of N.W. 128th Street and US Highway 169. The campus would reach full operational capacity in 2032.
As well as Diode, the plans include a company called Velvet Tech Services, LLC, seemingly a shell company registered through Delaware-based Corporation Service Company which has previously been used by a number of data center firms looking to hide their involvement in projects.
"When you think about 5.5 million square feet of data center space, it's a pretty tremendous amount of things like equipment and services that'll need to come from the community," said Brad Hardin, Diode Ventures president. "And so, as we continue to push this forward it's going to mean a lot of positive growth and positive impact for Kansas City overall."
The Committee's approval included revenue bonds that could reach a maximum aggregate of $103.7 billion. The total tax breaks the proposals is seeking comes to around $8.2 billion.
"We're pleased with the progress being made on the development of Golden Plains and believe the project highlights Kansas City's potential as a central element of the nation's data infrastructure," Ashlynn Horras, development project manager with Diode Ventures, told BizJournal.