Irish socialist party People Before Profit (PBP) has protested the plans for a floating data center on the River Shannon, saying it would be an "energy vampire."
Construction is due to start on Nautilus Data Technologies' floating data center at Limerick Docks, which was approved in 2019, but Limerick PBP representative Cian Prendiville said that it would put pressure on the city's electricity supply, while providing few permanent jobs, according to the Limerick Post. Nautilus has said that it will take 100 people to build the facility which would then offer 25 permanent posts.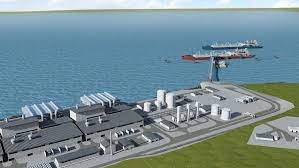 The complaint comes as energy prices are rising, and the Irish planning authority has delayed a decision on a proposal for a liquefied natural gas (LNG) plant close to the Limerick border in Ballylongford.
Government support
Nautilus Data Technologies has received $5 million from the Irish Strategic Investment Fund to help build the €35 million ($39m) floating facility, off Dock Road, with a land-based station in a former electrical substation on James Casey Walk. After a delay due to the Covid pandemic, Nautilus now says it expects to deploy the facility within 18 months.
The company already has a 7MW data center moored in Stockton, California. This figure would amount to ten percent of the power demand of Limerick as projected by Eirgrid, the Post reports. The data centers are cooled by the water on which they float, saving energy and boosting efficiency, Nautilus says.
As well as its barges, Nautilus is also working on a land-based facility in Millinocket, Maine, to be cooled with water redirected from a lake that also supplies hydroelectric power.
The proposal for an LNG plant nearby is much larger, and is still not approved. Since the idea was first put forward in 2008, it has faced intense controversy. The company behind the current proposal New Fortress Energy, wants to bring in fracked fossil gas from the US to generate electricity and pump into the Irish gas grid. The Irish government opposes fracking, and has set targets for increased renewables on the grid. It also has a policy of not importing US gas and rejected the proposal in 2020.
Despite this, the group was allowed to re-apply for planning permission in 2021. New Fortress has proposed up to eight data centers on the site, using electricity generated from LNG. The proposal includes a floating LNG storage and regasification plant which will be moored at a jetty.
According to the Limerick Leader, An Bord Pleanála has delayed its decision on the project, setting a new date of September 9.
The current plan is for a 100-acre LNG, to be built on 600 acres of unused land between Tarbert and Ballylongford. The remainder of the land would house a large data center campus holding up to eight facilities.
The proposal is opposed by a petition of Last more than 1,500 people, including over local representatives, senators, and members of the European Parliament (MEPs). Another petition supporting the plan attracted 800 signatures.