New Fortress Energy, a US natural gas company, has relaunched a bid to build a terminal for gas imports at Shannon Ireland, despite the Irish government's decision not to allow US fracked gas into the country.
The gas firm says it is transitioning to hydrogen in the next ten years, and has also promised to site a data center campus at the terminal, which can make use of the massive amount of cooling created when liquefied natural gas is evaporated before piping around the country. The company has been allowed to submit a new proposal for its €650 million ($780m) terminal to An Bord Pleanála, the Irish planning authority.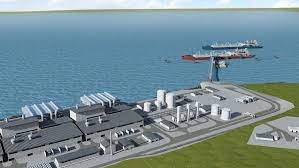 Hydrogen tomorrow, fracked gas today
New Fortress was set up in 2014 by Wes Edens, a former managing director at Lehman Brothers and BlackRock. Edens says it will be one of the world's leading producers of carbon-free energy and a net-zero emissions company within ten years. It has built a $1 billion floating LNG terminal in Jamaica's Old Harbour Bay.
The company ships fracked fossil natural gas from the US, but claims this is "cleaner" than other fuels such as coal or oil, and has made promises to transition to hydrogen in future: "Today, we modernize energy and power infrastructure in emerging countries, supplying a more affordable, cleaner fuel - natural gas," says its website. "Tomorrow, we aim to provide zero-carbon energy in the form of green hydrogen."
New Fortress had a previous application to build the Shannon terminal thrown out by the Irish High Court in 2020, after complaints by environmental campaigners, including Friends of the Irish Environment (FIE).
Since then, Ireland's Minister for the Environment Eamon Ryan has spoken against fracked gas, saying "it would not be appropriate to permit or proceed with development of any LNG terminals in Ireland, including the Shannon LNG project," according to the Irish Times. Ryan is going to review the security of Ireland's energy supply and whether natural gas is needed. However, the Irish Government does not have the authority for a legal ban on fracked gas, according to the Times.
The new application, sited on a 600-acre site in County Kerry, would hold a 600MW power plant as well as the LNG terminal, flies in the face of Ryan's statement says FIE director Tony Lowes: "If permitting an applicant to apply for a €500 million fossil fuel terminal is not 'proceeding' then I don't know what is," FIE Director Tony Lowes said to the Irish Times.
Speaking in favor of the project, Sam Abdalla, New Fortress's vice president of project development said: "This first phase of development – the €650 million power plant and terminal – will create 270 construction jobs over a three-year construction period with 70 long-term jobs, once operational."
He also promised more jobs from the on-site data center campus: "The development would occupy 100 acres of the 600-acre site and the site masterplan anticipates a follow-on development for a major data center campus with up to eight data halls which would create up to 400 additional long-term jobs."
LNG terminals have been proposed for data centers sites for some time, as they provide a very large source of natural cooling, when liquified natural gas at -160C is regasified. The idea has yet to be delivered in practice, although Singapore is furthest advanced in plans for data centers at LNG terminals. Among the possible objections are the fact that LNG terminals are sites of potential fire risk, and (because of that risk) are normally sited away from population centers.
Abdalla repeated New Fortress's promise that it would wean itself off fracked gas onto hydrogen in future.