Tomorrow Water, a subsidiary of Korea's BKT, has proposed building data centers at water treatment plants in cities to reduce the environmental impact of both.
The company has a process that replaces settlement tanks at the sewage plant with biological reactors, saving space. Waste heat from data centers can warm the biological systems, and help dry sludge, providing cool air for the data centers. Tomorrow Water has applied for a patent for this idea.
For more breaking data center news, features, and opinions, be sure to subscribe to DCD's newsletter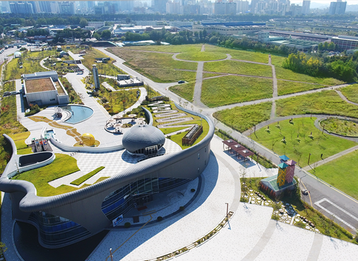 Today sewage... Tomorrow Water
Tomorrow Water's concept, labeled the Tomorrow Water Project, involves locating wastewater treatment plants, biogas plants, and data centers together, and using AI to increase the efficiency of the entire process throughout the entire value-chain.
The company's parent, BKT has a flagship wastewater recovery facility (WWRF) in Jungnang, Seoul, South Korea, which uses Tomorrow's BBF and Proteus biofiltration system instead of sedimentation tanks.
Large tanks or "clarifiers" are used in most treatment plants to remove sediment and organic material from wastewater; Tomorrow says its BBF and Proteus use active biological processes, with microbes in a biofilm which removes organic pollution. This takes up a much smaller physical space while creating more bio-gas from the sewage.
Sewage plants are generally in urban areas, where data center capacity is also needed. Applying its process to water treatment at the plant creates more space where data centers can be built, and also generates more renewable energy to power them. The data center's waste heat can also be plumbed into the water treatment plant and used to promote the biological process and dry sludge.
"Finding the space for data centers presents a challenge since they are most needed in major metropolitan areas where land is limited or in areas where necessary infrastructure is lacking. For instance, land prices in Loudoun County near Washington DC where data centers for Google, Microsoft, and Amazon are concentrated have more than doubled in recent years," says the Tomorrow Water announcement.
The company's BBF/Proteus biofiltration technology can be built underground, and uses 80-85 percent less area than a clarifier, says Tomorrow Water. Tomorrow's parent BKT cut the footprint of the Jungnang Water Reclamation Center in half when it installed BBF/Proteus three years ago, as well as halving the energy use. The reclaimed space was turned into a community park and a Sewerage Science Museum, but could just as easily have been repurposed for data centers.
"The concept of building a WRRF alongside a data center is expected to be a particularly attractive alternative for large cities in the United States that are experiencing budget reductions due to the Covid-19 pandemic," said Kim Dong-woo, CEO and founder of BKT and Tomorrow Water. "It is very likely that large financial institutions and construction companies will cooperate to improve wastewater treatment infrastructure, as well as acquire needed space for data centers as public-private partnership projects."
The solution will work well in US cities that are already competing to attract data centers with tax benefits, says the Tomorrow Water release.
"Since the successful underground construction of the Jungnang Water Reclamation Center, BKT & Tomorrow Water pursued the concept of building a data center on a reclaimed site," said Kim Dong-woo. "We are currently working to secure funding to develop the world's first WRRF-data center system and are partnering with various domestic and overseas companies to promote sustainable development in line with modern environmental initiatives like the [EU's] Green New Deal and United Nation's Sustainable Development Goals."