Nautilus Data Technologies is finally set to start building a floating data center in Limerick, Ireland, which was approved more than two years ago.
The company says plans are back on course, after a two year delay, and is shortly to start building a mooring station on land at James Casey Walk, off the Dock Road, for the €35 million ($39m) floating facility.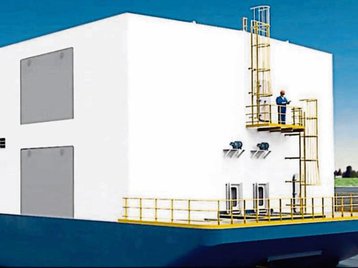 The company won approval for the data center in September 2019, after a lengthy battle with objectors to the scheme. However, since then, the plan got held up by Covid, the Limerick Leader reports.
While the data center floats in a barge on the River Shannon, Nautilus is demolishing a former electrical substation, and creating a new industrial building for storage and office space. An existing historical clock tower will remain. According to the Leader, the size of the barge has been reduced to preserve views of the river.
The site is not yet connected to the electricity grid, but this will happen quickly as the provider is legally bound to provide this.
There are 15 people already working on the project, which will eventually need 100 construction workers, and then provide 25 permanent jobs, according to Nautilus CTO Patrick Quirk. However, it will take another 18 months before the data center finally opens, and recruitment won't take place till the third or fourth quarter.
Nautilus is known for its barge data centers, which use water cooling without consuming water from the rivers or other bodies in which they float. In April 2021 it opened one such facility in California.
However, the company has also branched out with a project building a land-based facility on the site of a former paper mill in Millinocket, Maine, which will use the same water cooling system, fed by water redirected from a lake which will also provide hydroelectric power.
More in Construction & Site Selection