Nautilus Data Technologies has commissioned its first water-borne data center.
The 7MW Stockton1 data center at Port of Stockton, California sits on the deck of a barge on the San Joaquin River and has 10,000 sq ft of floor space.
"The rapidly growing data center sector is just as rapidly on the way to becoming utterly unsustainable," said James Connaughton, CEO of Nautilus. "Nautilus can reverse that. Our goal is to transform the data center sector into one that is higher performing, dramatically more sustainable, and more rapidly and equitably able to serve communities, government, and businesses globally. We want to make this technology as widely available as possible to help close the digital divide and enhance the lives of people around the world."
For breaking data center news, features, and opinions, subscribe to DCD's newsletter
Data centers take to the water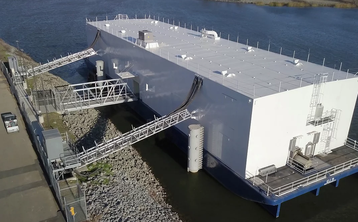 Located outside of seismic zones and floodplains, the carrier-neutral data center is connected to an 18 mile, 288-strand redundant fiber ring that links to a local carrier hotel. Nautilus claims its water-cooling technology allows high-density computing at more than 100kW a rack and a PUE of 1.15.
The raw water flow to support the cooling is around 4,500 gallons per minute (GPM) and the floating facility can get up to a capacity of 12,000GPM from its eight pumps. The facility has N+1 redundancy and a 69kV bulk substation feeds the Nautilus on-premise substation via a dedicated 12kV 10MW feed. The Port of Stockton is a Tier 1 Homeland Security Port.
"We are really excited about the possibilities that Nautilus will bring to Stockton and San Joaquin County," said Bob Gutierrez, interim president and CEO of San Joaquin Partnership, "Since its arrival, we have received numerous inquiries about their services, and it has acted as a proof of concept for other technology innovators to come to San Joaquin. This project certainly puts us in a competitive position as technology companies seek competitive, innovative green solutions to their growing demand."
The facility was built by Lind Marine, a ship manufacturer based out of California at the company's shipyard on the Mare Island Naval Complex in Vallejo. The vessel, Eli M, is a barge constructed in 1969 and has been refurbished to make it marine ready with the addition of 125 tons of structural steel repairs and modifications. The barge is comprised of 14 modules and weighs 700 tons.
Nautilus was founded in 2015 and last year secured a $100 million loan from investment firm Orion Energy Partners. Singapore-based Keppel invested $10m in Nautilus in 2017.