Nautilus Data Centers has been given the go-ahead to build a floating facility in Limerick Docks, Ireland, after local businesses withdrew their objections.
The €35 million floating facility, proposed in 2018, was designed to save energy by using water for cooling. Limerick Port Users Group objected that the port should be reserved for shipping. But the project got the green light after they withdrew their objections, the Irish Examiner reported.
The water's fine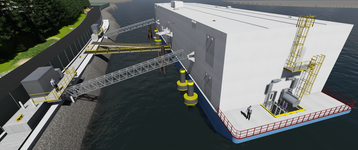 Nautilus launched in 2015, with plans for floating data centers plugged into shore-side power and data, and cooled using river or sea water flowing beneath them. Its first prototype was built on a barge at the Mare Island shipyard, San Francisco Bay. In 2017 it received a $10 million investment from Singapore-based Keppel Data Centres, and since then has extended its focus to include waterside properties where land-based data centers can be cooled by river or sea water.
This week, Keppel Data Centres' CEO talked about a plan to construct a flotilla of data center modules off the coast of Singapore, where land is very scarce.
Nautilus is planning a data center in a disused waterside factory in Alameda, California, and is also building a barge to be towed to Stockton California.
"Come on in, the water's fine," said Nautilus CEO James Connaughton at DCD's San Francisco event in July: "All of our major city population centers have ... ports with spare capacity. All over the world it is the cheapest real estate," he said, adding that dockland areas are already populated with large scale facilities. "So our challenge at Nautilus is not where we can go, it's how do we pick the next three places we want to go."
In Alameda, Nautilus faced opponents who claimed its use of sea water for cooling would affect local wildlife. Connaughton dismissed this out of hand: "The delta-T at the facility coming out is less than four degrees, which is below the most stringent standard in the world. When it hits the receiving water, it's less than one-tenth of a degree."
The Limerick project is expected to create 24 permanent jobs as well as employing 100 people during the construction phase.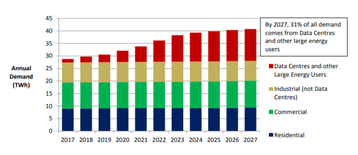 Power struggle
Energy efficiency in Ireland will become very important, according to a report from the Irish Academy of Engineering in July, which predicted that data centers will use 31 percent of the country's electricity by 2027, and require €9 billion of investment in electrical infrastructure. While other electricity demand is not expanding, data center use is soaring.
Irish utility Eirgrid plans to move to using 70 percent renewable energy for electric generation during this same period, but the increase in demand means that the country's carbon emissions from electricity generation will grow by 1.5 million tons or 13 percent by 2030.
"The establishment of Ireland as the data center capital of Europe clearly brings considerable direct investment in the data centers themselves, many of which are linked to the operations of major multinational employers, who have much of their non-US business serviced from Ireland," said the report.
"However much less attention has been paid to the very considerable investment in generation and network assets required to such a large-scale development of data centers in Ireland. The issue of who will pay for this investment and how it will be funded urgently needs analysis and debate."
Additional reporting by Sebastian Moss.