Nautilus Data Technologies has secured a loan from investment firm Orion Energy Partners to finish ongoing projects including a 6MW data center in the Port of Stockton, California.
Nautilus specializes in building water-borne facilities that rest upon a moored barge and are cooled by water. The $100m debt facility will cover the costs of finishing projects including the Stockton data center which is expected online in late 2020. The barge-borne data center will use the company's signature cooling system, cold water, and a system of heat exchangers that use the water surrounding the building as a reservoir. Nautilus says its method of cooling allows up to five times more power density per rack and can still have a smaller footprint than its competitors.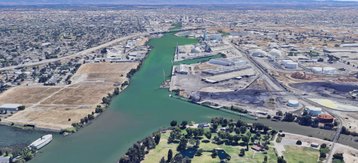 On the crest of a wave
This latest "debt facility" is the largest sum of money given to Nautilus so far. The company's CEO, James L. Connaughton, said: "Orion Energy is providing Nautilus with flexible capital to complete the commissioning of our Stockton I data center, strategically located in Northern California at the Port of Stockton.
"This capital will allow Nautilus to showcase and then rapidly expand our transformative approach to meeting the urgent business and community demand for higher performing and more sustainable data center solutions."
Orion Energy is an investment firm that focuses on investing in technology firms with an emphasis on sustainability. Gerrit Nicholas, the managing partner at Orion Energy, said: "Nautilus is well-positioned to set the standard for providing sustainable and reliable data center services to its customers."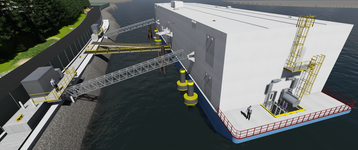 Since its founding in 2015, Nautilus has been busy building data center barges in the US and Ireland. However, its novel idea to build upon bodies of water has been met with criticism. Last year, the company's €35m ($40m) Irish data center in the city of Limerick got the green light after complaints in 2019 from the Limerick Port Users Group were withdrawn. The data center is expected to be online in the coming year and will be the first commercial data center to float on water.
Singapore-based Keppel invested $10m into Nautilus in 2017 and, in 2019, announced it was scouting for suitable nearshore locations for a waterborne facility. In April 2020 Keppel proposed a floating data center park in Singapore, that may be powered by liquefied natural gas - and told DCD it is evaluating other options besides Nautilus, saying: "We have a few options on the table. Depending on the specific requirements, geographical location, and operating environment of the FDCP, we will deploy the most suitable technology. Nautilus's technology is one of the options."
Other companies and investors have been toying with the idea of a water-borne data center. Microsoft's Project Natick is an underwater data center program that has seen two deployments in large submersibles in the Pacific and off the coast of the Orkneys, Scotland.