A new bill proposing to limit tax breaks for data centers in Idaho has been voted down by lawmakers.
Introduced last month, the new bill would require data centers to either have a sales tax exemption or benefit from urban renewal districts – but not both.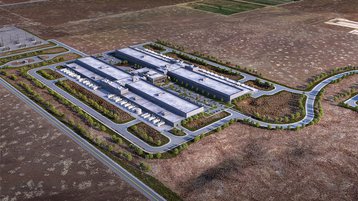 As reported by Bois Dev, the bill narrowly failed on an 8-7 vote in the House Revenue and Taxation Committee and has been returned to Local Government Committee.
In an effort to lure more developers to the state, Idaho passed a bill in 2020 granting sales tax exemption for operators that hit investment thresholds of $250 million or more and create at least 30 jobs.
Under current rules, data center developers can qualify for both the sales tax exemption and a property tax benefit known as an urban renewal district that improves local infrastructure where the facility is located. Property taxes in urban renewal districts don't go back to the general base but go towards infrastructure improvements in that area, essentially paying for the infrastructure a data center will use.
The new bill proposed to force data center developers to choose to benefit from one tax or the other, and not both. It was introduced by Democrat Representative John Gannon, who said it would prevent 'double dipping' by companies.
Idaho isn't known for having a large data center industry – although the FBI, DataSite, Tonaquint, and Involta all have facilities in the state. The bill would mostly affect Meta, which in early 2022 announced plans for a new data center campus in Kuna.
The social media company said it was investing $800 million in the project, set to be 960,000 sq ft (89,200 sqm). The company broke ground around September 2022, with construction anticipated to continue through 2025. Meta had been working with the city under the title Project Peregrine. At the time of the original announcement, Meta said it was investing approximately $50 million in a new water and sewer system for the city that would be dedicated to the City of Kuna to own and operate.
The project was large enough to qualify for sales tax exemption, with the City of Kuna then creating an urban renewal district encompassing the 325-acre industrial park in which the data center was located.
Proponents of the bill say it would ensure greater tax revenues for the local area by forcing data centers to pay more. Those who are against it, say the bill would discourage development in the state and hamstring local governments' efforts to diversify their tax base.
Lobbying group the Idaho Association of Commerce and Industry argued the bill would effectively kill Kuna's plans for a large industrial park.
"We've been locked in at a 90 percent residential property tax burden and 10 percent commercial for many years and this will allow us to break that lock and expand the commercial tax base and take the load off our citizens," said Kuna Mayor Joe Stear. "It allows us to be somewhat picky about what projects come to us from the Department of Commerce. Otherwise, we are dependent on them to choose us."
However, the Kuna site was one of the sites where construction was recently paused amid a 'rescoping' of Meta's future data center portfolio as it looks to cater to more AI-dedicated hardware and applications.