The FBI has opened its data center in Pocatello, Idaho, two years after DCD first reported on the facility.
Known as 'Grey Wolf,' the 100,000 square foot (9,300 sq m) facility is part of a $100m expansion that includes a 40,000 sq ft (3,700 sq m) office addition, both built by JE Dunn Construction.
Release the wolf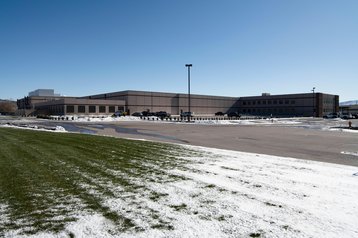 In the procurement documents, the FBI states that the Tier III facility has 25,000 sq ft (2,300 sq m) of data floor space with an optional 8,000 sq ft expansion.
"The initial IT installation will be 2.7MW with [the] capability to grow to 5.4MW of IT power," one document notes. "The facility shall be designed and constructed such that the expansion of the data center IT operations, as well as the power and cooling supporting infrastructure, will not experience an interruption of service during this period.
"The MEP systems will support growth of cabinet densities and changing IT configurations without impacting ongoing IT operations. A typical pod will consist of approximately 32 cabinets (16 per side) with hot aisle containment at 4'-0" and 5'-0" cold aisle. Each pod will be sized for a total of 340kW, but contain a mix of low, medium and high density cabinets. Initial cabinet densities will be a mix of 2 – 20kW/cab, with the ability to scale upwards to 30 – 40kW/cab in the future."
The data center will also be used by the US Marshal Service, the District Attorney, the Bureau of Prisons, and the Treasury Department. "This building, while in Pocatello, Idaho, will be the center and epicenter of what we are doing in Washington, DC," Jeffrey Sallet, FBI associate executive assistant director of finance and facilities, said at a groundbreaking attended by East Idaho News.
The FBI also operates data centers in Clarksburg, West Virginia and Sterling, Virginia, after the DOJ consolidated nearly 100 data centers (including small server rooms) across the Department.
"The consolidation of dozens of data centers will strengthen the cybersecurity posture for all [Department of Justice] components using the facility," the FBI said in a statement.