Huawei has opened an Arm-based data center at its offices in Moscow, Russia.
Built by Huawei's Intelligent Computing Systems Department, the company said it was the first such facility in the country.
Huawei said the data center was designed to provide local customers access to its Arm-based Taishan servers, which utilize Kunpeng 920 processors developed by its HiSilicon subsidiary.
The company said it and the Russian scientific and academic community are using the facility to optimize open source solutions and supercomputing development, and the construction of the new facility "demonstrates the company's intention to develop software products in Russia."
"This computing cluster will enable our partners and customers to test their software products, to join the construction of a new open ecosystem," said Nikita Solodun, intelligent computing systems expert at Huawei in Russia. "Prior to the commissioning of this data center, we had to spend resources on the delivery of equipment and deployment of servers at the customer's sites, now it is possible to provide both remote and local access to equipment with virtually no time delays."
Arm processors are dominant in the mobile space, but Huawei said they can provide an alternative to the x86 architecture in the data center space. Others like Ampere, Fujitsu, and Microsoft are also developing Arm CPUs for the server market, to name but a few.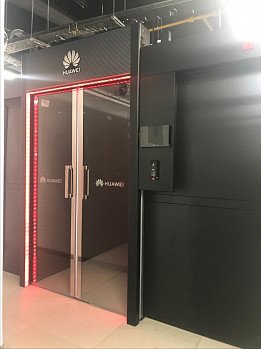 "High-performance Arm cores have proven themselves well not only in tasks with numerous parallel computing, such as big data, virtualization systems, databases, storage systems, but also other tasks. The tests carried out have shown that in a number of scenarios Arm servers can already compete fully with solutions based on the x86 architecture," said Liu Yu, director of the department of Intelligent Computing Systems of Huawei in Russia.
In Russia, state-owned bodies generally avoid US-developed processors and software where possible. During a number of recent technology announcements, Russian Railways outlined a commitment to using 'domestic' software and hardware for its operations.
It said all its IT solutions that are used in production management are completely Russian: they were made by domestic developers using import-independent software and the company is paying close attention to ensuring all employee workstations are equipped with the domestically-produced Elbrus (Elbrus 2000, x86) and Baikal (MIPS and Arm) microprocessors.
Huawei launched its Kunpeng 920 processors in 2019. It has promised $1.5 billion to help develop Arm-native applications in an effort to help it overcome sanctions that prevent it sourcing US-developed chips from the likes of Intel. Last month Huawei announced it was working with local firm Sitronics to develop hardware that meets domestic localization requirements.
However, Arm itself is in the midst of being acquired by US corporation Nvidia - which could complicate matters.
Huawei has also struggled to manufacture chips, after TSMC dropped the company following US pressure. Huawei shifted most of its orders to the less advanced Chinese corporation SMIC, which was then hit with sanctions, limiting its ability to acquire the necessary equipment to develop semiconductors.
Kunpeng 920 processors are 7nm process node products made by TSMC, while SMIC is only nearing the ability to manufacture 14nm. The servers in Russia may have been built with chips Huawei secretly stockpiled before sanctions hit.