Microsoft is designing its own Arm-based CPUs for data center servers and its Surface laptops.
That's according to a report from Bloomberg, and follows similar moves by cloud rival Amazon Web Services and laptop competitor Apple.
Arm, the company, licenses out its eponymous chip architecture to other companies who then design their own processors.
Do it yourself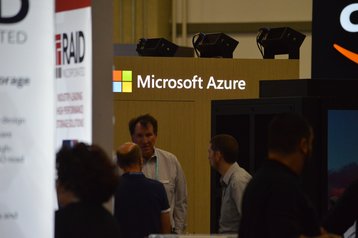 It follows years in which Microsoft has been recruiting semiconductor engineering talent from Intel, AMD, and Nvidia, as well as Qualcomm after the chip designer abandoned the development of its own Arm server CPUs. Microsoft has also strongly considered Arm server designs from both Qualcomm and defunct Cavium, which was acquired by Marvell in 2017.
Microsoft's Azure cloud is currently primarily powered by servers running Intel Xeon and AMD Epyc CPUs, but the need for lower cost, more power-efficient hardware has encouraged cloud giants to develop their own bespoke server CPUs. The rapid development in recent years of artificial intelligence has also encouraged chip designers - and the cloud giants that want to dominate that area - to develop architectures more appropriate for the mathematical demands of AI.
Microsoft is also working on Arm processors for its Surface range of computers, according to Bloomberg.
It would not be the first time that Microsoft has toyed with Arm CPU designs for its mainstream computers. Its first generation of Surface tablets used the Nvidia Tegra 3, but ran Windows RT, which was unable to run applications developed for the mainstream Windows operating system. Sales were poor, as a result, and Windows RT soon discontinued.
Then, in October 2019, Microsoft launched the Surface Pro X, running Microsoft's SQ1 system-on-a-chip. That, however, is based on Qualcomm CPU and GPU technology - the Kyro 495 ARM v8 combined with the Adreno 685. The SQ2 SoC uses the Adreno 690 GPU.
Intel's stock price fell by more than six percent on the news of the Microsoft Arm developments, which comes at a time when the company is struggling to wring more performance out of its processors just as AMD, its main rival in the x86 space, has released a slew of highly competitive Ryzen and Threadripper CPUs.
While AMD has been making some in-roads into Intel's supremacy in the data center, designs based on Arm represent a longer-term existential threat to Intel's dominance of the microprocessor market – especially as it has struggled for the past five years to shift its production from 14nm process nodes at a time when TSMC and Samsung foundries have started to shift to 5nm and are looking to 3nm.
Bloomberg has published similar speculative reports about Apple, claiming that it was working on Arm processors to power its MacBook and iMac PCs instead of Intel, since 2012. However, it wasn't until earlier this year that Apple finally unveiled the first products of that research.
Apple launched its own range of MacBooks and Mac Minis, based on the eight-core, 3.2GHz Apple M1 chip, built by TSMC on its latest 5nm process node. Early reviews indicate that both the Apple-designed CPU and accompanying GPUs out-perform rival Intel offerings.