AMD's second quarter results beat Wall Street expectations with a strong performance from its Ryzen PC chips and Epyc server processors.
The company, which raised its guidance for the year ahead, reported net income of $157 million on revenue of $1.93 billion.
Epyc results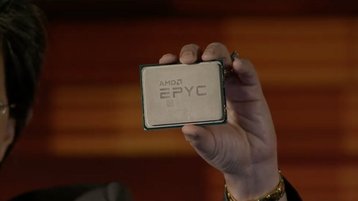 "Our strong second quarter results and increased full-year revenue guidance demonstrate how we are successfully scaling our business through our consistent execution. Looking at the second quarter, revenue grew 26 percent year-over-year, driven by strong demand for our leadership server and client processors," CEO Lisa Su said in an earnings call.
"We passed a significant milestone in the quarter, as we achieved our double-digit server processor unit share goal, based on broad adoption across cloud, enterprise and HPC customers."
Data center products accounted for more than 20 percent of the company's second quarter revenue. Microsoft, Google, Tencent, and AWS were all namechecked in the call as customers expanding their Epyc deployments.
"We are pleased with the momentum in our server business and expect to continue gaining share as additional second Gen Epyc platforms and cloud deployments ramp to volume in the second half of the year," Su said.
"We remain on track to begin shipping our next generation Milan server processor featuring Zen3 late this year."
The company's existing and upcoming products are all 7nm, while rival Intel last week announced that it would have to delay its 7nm lineup to at least late 2022 or early 2023.
"When we talk to our customers, it's about ensuring that they understand we have a consistent roadmap that is pushing the leading-edge performance and ensuring that we deliver the performance improvements that we promise," Su said in reference to the delay. "We feel good about our road map."
Due to Intel's foibles, the stronger performance of its products than expected, and a more optimistic view of PC sales in the latter half of the year, AMD raised its guidance from 25 percent yearly revenue growth to 32 percent.