Data center firm HostDime has released design plans for a facility due to be built in Guadalajara Mexico.
The 3MW "Andromeda" data center, built on three acres of land acquired in 2021, will be a high-spec design, including a conference center and a rooftop helipad so executives can reach it in emergencies. HostDime has said it will be certified with the Uptime Institute for Tier IV reliability, making it Mexico's second such facility.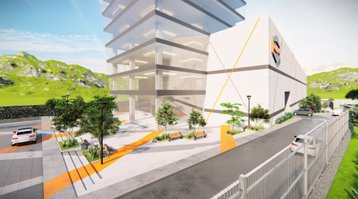 The new facility is due to open in 2024, and will also be certified by the ICREA (International Computer Room Experts Association). V standard.
Andromeda will have 100,000 sq ft (9,300 sq m) of space on three floors, which will include private data halls as well as colocation cage space and lockable racks. The carrier-neutral facility will have meet-me rooms for interconnection, and a specific hall for hybrid-cloud workloads.
The facility will also host Mexico's first peering exchange, GDL-IX., with four diverse manhole entries into the facility for local carriers to extend their fiber into the diverse meet-me rooms. HostDime expects to get connections to local carriers such as Marcatel, MetroCarrier, Axtel, TotalPlay, Alestra, Cogent, Bestel, Flo Networks (Transtelco), and Telmex, making it one of Mexico's most interconnected facilities.
There will be office floors in a tower at the front of the data center, as HostDime says it has a lot of Mexican clients who want to rent office and data center space in the same facility. The company says these office floors will benefit from the reliable, redundant power infrastructure serving the data center, and will be suitable for companies needing reliable technology-centric office space
Other features include a client reception area, a colocation lounge for staging servers, and private dedicated warehouse storage space, with all rooms connected by fiber.
There will be a mid-floor indoor/outdoor event space for technology-related conferences in the Guadalajara Metro area - and plans for a helicopter pad on the roof to transport clients to the facility in emergencies around the highly congested Guadalajara, Mexico metro area.
HostDime already has a Tier III facility in Guadalajara and reports that around 80 percent of its 20,000 sq ft (1,850 sq m) capacity is occupied. The company has also announced a Tier IV data center in Bogota, Colombia, due to open on November 18.
The company's flagship headquarters and Tier IV Orlando data center is due to open in late Q1 of 2023. The company has been working on the project for several years, breaking ground way back in 2016, before halting work in 2017, and announcing it was picking the development back up in 2019.
"We are very excited to release the design of HostDime's New Data Center in Guadalajara, Jalisco, Mexico, in the cradle of innovation, 'The Silicon Valley of Mexico'. Guadalajara has innovative technology roots and being the second largest metropolitan city in Mexico, we know this new data center facility will properly serve the surrounding market," said Eduardo Basulto Jiménez, CEO of HostDime México.