Officials from Fulton County, Georgia, have agreed to offer a $420m data center project around $14.5m in tax reductions over 10 years.
Known as "Project Fulton," the 250,000 sq ft (23,000 sq m) development is operated by an unknown company. There is no mention of the company's identity among official documents publicly released.
Tax break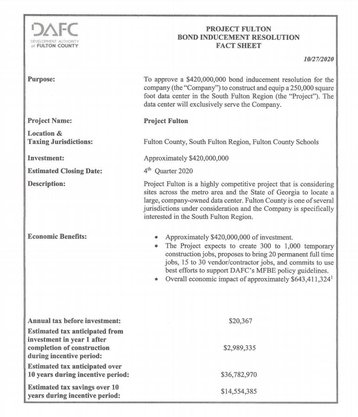 According to documents, Project Fulton would create up to 20 jobs and provide an overall economic impact of almost $650m.
County officials from the Development Authority of Fulton County considered the offer on October 27 and agreed to grant the unnamed company $14.5m in property tax reductions over the next 10 years.
The tax break could be put up for a final vote before the end of the year.
The area around the City of Atlanta has been attracting many data center operators.
In May, Stack Infrastructure announced it would be doubling its capacity with a new facility on a six-acre plot of land adjacent to its current data center campus near Atlanta, US. The company bought the parcel of land, for an undisclosed sum, upon which it hopes to build a 12MW facility.
QTS Realty Trust opened the first phase of its new 495,000 sq ft (46,000 sq m) data center in Atlanta on October 23. The first phase consists of 240,000 sq ft (22,000 sq m) of data hall space and 72MW of power capacity.
In September, Facebook announced it was going to pump $1bn into three facilities at its data center campus under construction in Newton County east of Atlanta.
According to CBRE, Georgia is seeing heightened activity that made it the fifth most active location for new data center construction in the US in 2019 – trailing behind Silicon Valley, Dallas, Phoeinx - and of course Northern Virginia, which leads the field with some 60 percent of US data center construction./