A Trump-era plan to force TikTok to sell its US operations has been shelved indefinitely, WSJ reports.
The Chinese social media company fought the sale in the courts, as the Commerce Department tried to spin TikTok US out into a new company with backing from Walmart and Oracle.
If the sale had happened, the new company was set to be hosted on Oracle Cloud.
Oracle loses its biggest potential customer win in years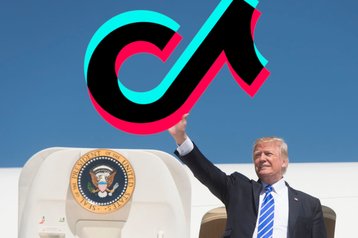 In a court filing, the Biden administration said it would review the claim that TikTok posed a national security threat, and delayed a planned government appeal of a federal district court judge's December injunction against the TikTok ban.
People familiar with the matter told the Wall Street Journal that discussions are continuing between representatives of TikTok parent ByteDance and US national security officials. In particular, officials are focused on security and how to ensure US users' data cannot be accessed by the Chinese government.
TikTok has long claimed that American data is kept in the US and that it does not share that data with Beijing.
"We plan to develop a comprehensive approach to securing US data that addresses the full range of threats we face," National Security Council spokesperson Emily Horne said.
"This includes the risk posed by Chinese apps and other software that operate in the US In the coming months, we expect to review specific cases in light of a comprehensive understanding of the risks we face."
Then-President Donald Trump originally signed an executive order banning US companies from doing business with ByteDance back in August 2020, giving a deadline of September 20. The only way out, he said, was to sell the company - and give the US state a cut of the proceeds. TikTok then sued the US government over the ban and forced sale, while also courting potential suitors.
An early frontrunner in acquisition negotiations was LinkedIn-owner Microsoft, which has also been in discussions with Pinterest about a possible sale as it looks to expand its social media arsenal to younger audiences. But the US government favored a proposal led by Oracle, founded by prominent Trump backer Larry Ellison.
The deal, approved in principle by the President in September, would have seen the creation of 'TikTok Global.' The new company would count Oracle and Walmart amongst its biggest shareholders, and be hosted on Oracle cloud.
At the time, Trump said that the new company will be "totally controlled by Oracle and Walmart... All of the control is Oracle and Walmart," but Oracle was set to take a 12.5 percent stake and Walmart 7.5 percent.
ByteDance's shareholders were expected to own the remaining 80 percent, leading critics to note that the deal did not actually address any of the US government's nominal concerns.
Even if it had gone forward, the sale would still have to be approved by the Chinese government - which recently brought in new restrictions regarding the export of algorithms.
For more breaking data center news, features, and opinions, be sure to subscribe to DCD's newsletter
Confusing matters further, following the deal agreement Trump told supporters that TikTok Global "are going to pay $5bn into a fund for education so we can educate people as to the real history of our country."
The announcement was news to his fans at the North Carolina rally - and it was news to ByteDance, Oracle, and Walmart. It appears to have been a rebuttal to the "1619 Project" - a Pulitzer Prize-winning series of New York Times essays that examined how slavery is interwoven with the story of American democracy - and it was not clear what it had to do with TikTok.
But with Trump's election defeat the driving force behind the sale was no more. In his final two months, the President was focused elsewhere, and the Commerce Department decided not to enforce the ban.
TikTok continues to offer services in the US. It signed a three-year, $800m deal with Google Cloud back in 2019, and is a major wholesale data center customer.
ByteDance was among the biggest US data center leasers of 2020, taking up 134MW, a report by North American Data Center found.
It does not appear to use Oracle Cloud.