Multi-Tenant Data Center (MTDC) leasing in the US reached a new record in 2020, according to a new report.
North American Data Center found that just under 700MW was leased in the US in 2020.
NADC reports that this figure was more than three times greater than that in 2019 and twice that of 2018, and was a record year for the industry.
Microsoft, ByteDance (TikTok), and Facebook were the biggest leasers of the year, with Cloud HQ, Aligned Energy, and Digital Realty Trust as the largest beneficiaries. The Redmond company leased 225MW of capacity across nine deals in four markets, with ByteDance leasing 134MW. 2020 saw five leases of 50MW or more, and 19 deals larger than 10MW.
The US government under Trump tried to force ByteDance to separate its US operations, in a deal that would have seen workloads transfer to Oracle Cloud. With the administration departing, and no action taken by the Commerce Department, that does not appear likely to occur.
Register now for DCD's global summit on growing data center capacity demands
Pandemic slowed leasing despite record year, could grow more in 2021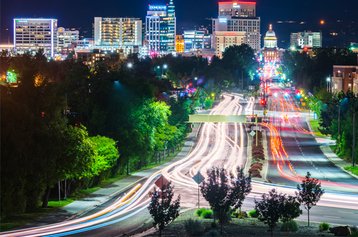 Northern Virginia was the main hotspot for activity, leasing more than 500MW, double on 2018 and 80 percent of US and Canada's total for the year. Chicago, the Bay Area, and Phoenix had strong years, largely driven by Microsoft, while Dallas, Texas reportedly struggled to land hyperscale customers.
Virginia continues to be the world's main data center hub, offering connectivity and tax benefits for the industry. Last year, Senator Mark Warner said he would move "heaven and earth" to attract operators and keep the state's data center industry growing.
Data center growth looks set to continue in 2021. NADC said the total available data center inventory in the country was 452MW, with a further 643MW currently under construction. The firm added that a large proportion of enterprise leasing took place in the first quarter of 2020 before the Covid-19 pandemic struck, and expects leasing activity for those users to pick up during 2021 once logistics of acquiring new sites have been overcome.
Leases are also becoming shorter, with NADC reporting that companies are becoming more comfortable with shorter-term leases, and most of the publicly traded companies report an average term length of 7.25 years.