President Donald Trump has approved a deal in principle for Oracle and Walmart to partner with 'TikTok Global,' a new company spun out of ByteDance.
The deal would see Oracle win cloud and technology services contracts for the popular video-sharing app, but not gain control over the company's algorithms.
Instead, ByteDance's shareholders would remain the majority owner of the company, with Oracle able to "check" source code. TikTok Global will be headquartered in the US, with four Americans out of the five-member Board of Directors.
The deal still has to be approved by the Chinese government.
Still a lot of uncertainty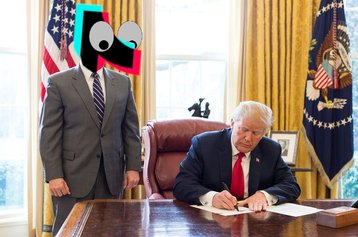 Trump said the new company will be "totally controlled by Oracle and Walmart... All of the control is Oracle and Walmart." In reality, Oracle will take a 12.5 percent stake and Walmart a 7.5 percent stake.
ByteDance's shareholders will own the remaining 80 percent, including the company's employees and CEO, but an IPO is planned in the next year to bring more US shareholders into the mix. ByteDance is already 40 percent owned by US investors.
"As a part of this agreement, TikTok will run on the Oracle Cloud and Oracle will become a minority investor in TikTok Global," said Oracle CEO Safra Catz.
In a statement, the company said TikTok "was heavily influenced by Zoom's recent success in moving a large portion of its video conferencing capacity to the Oracle Public Cloud." In actuality, while Oracle spent much of the summer claiming it was hosting popular videoconferencing platform Zoom, it mostly runs on Amazon Web Services.
During Zoom's first quarter earnings call, CEO Eric Yuan thanked AWS and said the cloud provider "was able to respond quickly by provisioning the majority of the new servers we needed, sometimes adding several thousand a day for several days in a row."
Oracle, on the other hand, was referred to as a Zoom "customer," who showed support. "Not only did Larry Ellison record a great video to encourage our team to do the right things for the world, but also offered Oracle cloud support. We also provisioned a number of servers in the Oracle cloud."
With the TikTok deal coming into focus, Ellison - a major Trump donor - said that "TikTok picked Oracle's new Generation 2 Cloud infrastructure because it's much faster, more reliable, and more secure than the first generation technology currently offered by all the other major cloud providers."
When it was fully independent, TikTok picked Google Cloud as its provider in a three year, $800m deal (it also uses data center providers, including Digital Realty). It is not believed that Google bid for TikTok.
The only cloud provider to bid for TikTok beyond Oracle was Microsoft, but the company's proposal stuck to Trump's original demand - a wholly US-based company with all the tech kept in the country for national security concerns. ByteDance passed on Microsoft's offer earlier this month, opting for the deal that sees it retain more control.
Another Trump demand was that the US Treasury get a cut for facilitating the sale, as the President had threatened to ban the platform unless it was sold.
In Oracle and Walmart's press releases, that cut was redefined as $5bn in new taxes that the US-based company was likely to pay as it continued to expand and hired more than 25,000 new employees.
But in a North Carolina rally this Saturday, Trump told supporters that TikTok Global "are going to pay $5bn into a fund for education so we can educate people as to the real history of our country. We are getting very close to that deal."
In a statement over the weekend, ByteDance said that this was the first time it had heard about the commitment. ByteDance, Oracle and Walmart, have agreed to create an education initiative, but have not promised to invest $5bn, nor have they agreed to teach "the real history."
Last week, Trump declared a new national campaign to promote "patriotic education" and said he would launch a national panel to create a "pro-American curriculum," dubbed the "1776 Commission."
It is believed that the effort is in response to the "1619 Project," a Pulitzer Prize-winning series of New York Times essays that examined how slavery is interwoven with the story of American democracy.
This article has been updated as more details surrounding the deal have come out