Oracle's co-CEO Safra Catz is to join Donald Trump's transition team, the President-elect's staff have announced.
The appointment comes after Catz, and numerous high-profile tech business leaders met Trump earlier this week.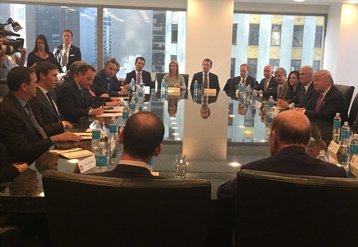 All aboard the Trump train
How involved Catz will be in the Trump administration is unclear, although Catz will retain her role as CEO of Oracle, shared with co-CEO Mark Hurd.
Prior to Wednesday's meeting with Trump, Catz said: "I plan to tell the President-elect that we are with him and are here to help in any way we can." She continued that she hoped that would reform the tax code, reduce regulation and negotiate beneficial trade deals for the tech community.
At the meeting, she said: "I'm actually privileged and honored to even be here, and we are looking forward to helping you, and your administration."
Catz was only one of the many tech CEOs who made the pilgrimage to Trump Tower, apparently hand picked by Trump transition member and Facebook board member Peter Thiel.
Opening the meeting, Trump said: "I won't tell you the hundreds of calls we've had, asking to come to this meeting. And I will say Peter would sort of say, 'You know, that company's too small.' And these are monster companies. And I just want to start by thanking Peter. Because he saw something very early, maybe before we saw it."
Everyone that sat at the Trump table (clockwise):
Ivanka Trump - Donald Trump's daughter, EVP of Development & Acquisitions at the Trump Organization
Eric Trump - Trump's son, EVP of development and acquisitions at the Trump Organization, owner of Trump Winery
Brad Smith - Microsoft president
Jeff Bezos - Amazon CEO, founder of Blue Origin, owner of The Washington Post
Larry Page - Alphabet CEO (Google's parent)
Sheryl Sandberg - Facebook COO
Mike Pence - Gov of Indiana, Vice President-elect
Donald Trump - President-elect, Chairman and President of The Trump Organization, Exec Producer of Celebrity Apprentice
Peter Thiel - Palantir Founder/Chairman, Paypal co-founder, Facebook board member, President of Clarium Capital, Partner in Founders Fund, Trump transition member
Tim Cook - Apple CEO
Safra Catz - Oracle co-CEO
Elon Musk - Paypal co-founder, SpaceX, Tesla CEO
Gary Cohn - Goldman Sachs president/COO, Trump's "top economic advisor" 
Wilbur Ross - Secretary of Commerce nominee, investor specializing in leveraged buyouts and distressed businesses
Stephen Miller - Trump senior adviser, upcoming Senior Advisor to the President for Policy
Satya Nadella - Microsoft CEO
Ginni Rommety - IBM CEO, Trump advisory board member
Chuck Robbins - Cisco CEO
Jared Kushner - Trump's son-in-law, principal owner of Kushner Companies and Observer Media
Reince Preibus - Republican National Committee chairman
Steve Bannon - Trump campaign CEO, on a leave of absence from Breitbart
Eric Schmidt - Alphabet executive chairman
Alex Karp  - Palantir CEO
Brian Krzanich - Intel CEO
Donald Trump Jr - Trump's son, EVP at The Trump Organization
For a handy seating chart, check out Quartz.
Before the media were ushered out, Trump said: "I am here to help you folks do well, and you're doing well right now, and I'm very honored by the [stock market] bounce, they're all talking about the bounce. So right now everybody in the room has to like me at least a little bit. We're going to try and have that bounce continue, and perhaps even more importantly we want you to keep going with the incredible innovation.
"There is nobody like you in the world. There is nobody like the people in this room and anything we can do to help this go along, we're going to be there for you and you will call my people, you will call me, it does not make any difference, we have no formal chain of command around here.
"I'm honored to have Gary, the president of Goldman Sachs, [he] left Goldman Sachs to do this, and Wilbur, everybody knows Wilbur, they never call him Wilbur Ross on Wall Street, they just say 'Oh, it's Wilbur.' There's nobody like him.
"And we're gonna do fair trade deals. We're going to make it a lot easier for you to trade across borders because of a lot of restrictions, a lot of problems that I think you'll see. And if you have any ideas on that, that would be, that would be great because there are a lot of border restrictions and a lot of border problems, you probably have less of a problem than some companies, some companies have - you have some problems."
What was said in the meeting was behind closed doors, but Amazon's Jeff Bezos said of the event: "I found today's meeting with the President-elect, his transition team, and tech leaders to be very productive. I shared the view that the administration should make innovation one of its key pillars, which would create a huge number of jobs across the whole country, in all sectors, not just tech - agriculture, infrastructure, manufacturing -everywhere."
Recode reports sources that say that Satya Nadella brought up H-1B visas; Apple CEO Cook and Facebook COO Sandberg brought up STEM education; and Alphabet executive chairman Eric Schmidt wondered aloud what he would do as president and said the government software should be upgraded.
Amazon's Jeff Bezos talked about the difficulty of operating in China; Oracle CEO Safra Catz talked about the cloud (calling it overhyped); IBM CEO Ginni Rometty talked about job creation; and Alphabet CEO Page brought up infrastructure and the electrical grid.
SpaceX and Tesla CEO Elon Musk also brought up climate change in later meetings. The next day, Musk (a friend and old business partner of Peter Thiel) joined Trump's Strategic and Policy Forum, which already includes IBM's Rometty. Also joining the board is Uber CEO Travis Kalanick and Pepsi CEO Indra Nooyi.