Equinix is backing a potential new district heating system in Blanchardstown, Dublin, starting with a feasibility study to be carried out by the Dublin energy agency Codema.
Codema and Equinix hope to set up a district heating system that would involve laying insulated underground pipes from an Equinix data center to nearby properties including a hospital, university, and local aquatics center, which could use the facility's waste heat. There is no timescale for the project, but it would be the second district heating system in the city, following one under construction with AWS in Tallaght.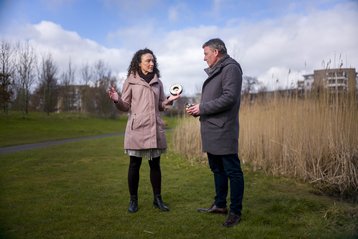 The project would likely be based around Equinix's DB5, a 19MW facility currently being built at Clyde House in Blanchardstown.
Heating in the pipeline
The Irish data center sector is currently facing pushback, as it has been growing at a rate that challenges Ireland's infrastructure and renewable energy strategy. The Irish Times reports that the sector uses 14 percent of Ireland's electricity supply, and its demands grew by one-third in a single year (2021). Data centers have overtaken all the electricity used in rural homes in the country.
District heating systems are potentially a way to soften the impact of data centers as they use the heat generated in data centers (and other industries) to provide heating to local homes and businesses. The idea could potentially help the country to ease its dependence on fossil fuels by decarbonizing heating - although it will require a heavy investment in infrastructure as Ireland currently has n0 district heating systems, except for the Tallaght scheme under development.
Data centers have been slow in supporting the idea as it requires expensive infrastructure, while air-cooled data centers produce relatively low-temperature heat, and are not often situated close to consumers. However, district heating is now included (as an ambition) in initiatives like the European data center industry's Carbon Neutral Data Center Pact, and efforts have been made to make the idea more commercial.
Microsoft recently announced a region in Finland, whose data center has been deliberately sited at a district heating system to enable the local utility Fortum to reuse its heat.
Donna Gartland, CEO, Codema, said: "Codema's mission is to lead the low-carbon transition in Dublin, and one of the ways we have been successfully doing this is by identifying and implementing solutions to help reduce our reliance on fossil fuels. We have enough waste and renewable heat available in Dublin to completely move all buildings away from fossil fuel heating, and working with progressive and ambitious industry stakeholders like Equinix enables us to bring these district heating projects to reality."
In response to a query from DCD, an Equinix spokesperson said: "This is specifically a district heating project, with the aim of benefitting vital public infrastructure in Blanchardstown. The first step to getting the project underway is a feasibility study, which will determine if it is possible, how it can be done and when."
The project - if approved - is likely to take some time to put together, Equinix said: "District heating requires laying pipes underground, so this does take some time."
The potential scheme would be part of its effort to become carbon neutral in Ireland and globally by 2030, said Maurice Mortell, Equinix's Sustainability Lead in EMEA and Managing Director for Ireland: "Our partnership with Codema will help us to explore new ways in which we can not only work towards our own decarbonization, but also benefit the community in which we operate and contribute to the circular economy."