Microsoft is building a new data center region in Finland, joining a project started by local utility Fortum to deliver its heat output to homes and businesses in the Helsinki metropolitan area
The new facility will allow Finnish organizations to store their data in Finland, with a very low response time, while also providing zero-carbon heat to Fortum customers in Espoo, Kauniainen and Kirkkonummi, West of Helsinki.
The partners say this is the world's largest data center heat recovery project, and Finland's largest single ICT investment ever.
Warming Helsinki up
Data center heat is potentially a useful resource, as nations want to decarbonize their heating systems to reduce emissions. They can use waste heat generated while servers do useful work - and in this case, the electricity fed to those servers will be from renewable sources in the first place.
Using the heat has been a struggle however, because data center heat is low quality, and data centers are rarely located close to district heating systems that can use their output. Because data center heat is usually offered for free, with no guarantees, connection is often not financially viable.
Fortum began looking for a partner four years ago, aiming to find a data center partner whose waste heat could displace other energy sources, enabling Fortum to switch off coal fired plants currently feeding the district heating system.
Back in September 2021, DCD reported that the city of Espoo had granted approval for a data center at Hepokorvenkallio, located between Lake Bodom and the Kehä III:n beltway, close to Fortum's heating system. Fortum was on the hunt for a suitable candidate, whose facility could be as large as 100MW and cost as much as €1 billion.
Now, it seems Microsoft has come on board. The announcement says: "From the outset, Fortum has designed the project and the locations of the data centers so that the waste heat generated from them can be recycled directly into the district heating network".
The heat will go into district heating for Espoo, Kauniainen and Kirkkonummi, which is the main source of heat for domestic and business premises there. The waste heat will directly replace the use of coal and gas.
Microsoft has not confirmed that the new data center is at Hepokorvenkallio, but it's worth noting that Microsoft's headquarters in Finland is in the former Nokia headquarters in Espoo - a building it shares with Finnish IT company Tieto. Microsoft's tenancy in the building is one of the few legacies of its failed acquisition of the once-supreme Nokia mobile phone business in 2013.
Microsoft has also not detailed the size of the data center, but we are told its emissions will provide a reduction in CO2 emissions of 400,000 tonnes per year, enough to provide 40 percent of the heat demand of about 250,000 customers on the district heat system. This is substantially larger than the 300,000 savings Fortum was expecting in 2021, so we are talking about at least a 100MW facility.
The waste heat won't be on stream till the late 2020s, according to the announcement, but at that point, Fortum predicts that about 60 percent of the area's heating will be generated by climate-friendly waste heat, 40 percent of which will come from the new data center area and the rest from sources including treated wastewater.
DCD has asked Microsoft for more details about the new data center - and had clarification from Fortum about the origins of the project.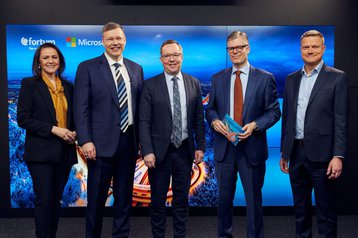 The announcement has been four years in the making, and got a welcome from politicians, with Business Minister Mika Lintilä present at the launch. Prime Minister Sanna Marin commented: "Everyone wins with the decision to invest in a data center that also generates heat for our cities and homes. It will accelerate Finland's digital growth and at the same time clean up our energy system. I hope that this cooperation will serve as a model for other countries and cities that are looking for ways to combine the transition to climate neutrality and digital competitiveness."
"Sometimes the most sustainable solutions are simple ones," said Fortum CEO Markus Rauramo. "Data centers enable digitalization and thus create a lot of prosperity in the world. They also provide a largely untapped and emission-free heat source that can be used very efficiently under the right conditions. Four years ago, our colleagues started looking for a data center operator who would be ready to implement climate-friendly solutions on an unprecedented scale together with us in the Espoo, Kirkkonummi and Kauniainen areas. I am glad that the search is now over."
Jukka Mäkelä, Mayor of Espoo said:."The new data center area further strengthens Espoo's position as an innovative pioneer in sustainable development. There is fierce competition in the world for data center investments, but as a result of the excellent cooperation and investment environment, a solution was created that benefits everyone from the Finnish level to the local population. The use of clean waste heat as district heating will significantly help us towards carbon-neutral Espoo in 2030. We are very pleased with the cooperation between Fortum and Microsoft and welcome it."
Microsoft says it has more than 45,000 commercial customers and 2,000 partner companies in Finland. Existing customers such as Nokia, Elisa, Fortum, S-Bank, Tietoevry, HUS, Vero and Valtori, have expressed interest in the new data center area, with several pitching insupportive quotes.
The new region will be part of Microsoft's global cloud infrastructure, which includes more than 60 data center regions, more than 200 data centers and more than 280,000 kilometers of fiber optic cable. The word Azure is not mentioned, however, and Finland does not yet appear on Microsoft's list of Azure regions.