Heatworks has broken ground on a district heating scheme utilizing excess heat from an AWS data center in Dublin, Ireland.
The company last week broke ground on South Dublin County Council's (SDCC) Tallaght District Heating Network at TU Dublin in Tallaght.
The network will use excess heat from a nearby AWS data center in the form of water heated via a heat exchanger. The cloud company isn't charging for providing the recycled heat to the scheme.
As DCD previously reported when the project was first announced late last year, the heat from AWS's data center will be drawn from its hot aisle and run through a heat exchanger that both cools the data center and heats up water that is delivered to a nearby heat pump operated by Heatworks.
Finnish energy company Fortum is carrying out the design, installation, and operation of the Tallaght network.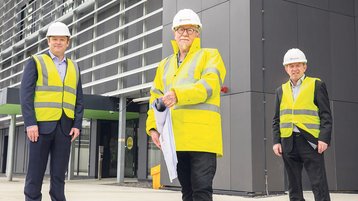 Non-profit Heatworks will begin supplying heat in early 2022, with initial customers being SDCC and the Tallaght campus of the Technological University Dublin (TU Dublin).
The system will initially heat 47,000 sqm (506,000 sq ft) of public sector buildings, 3,000 sqm (32,300 sq ft) of commercial space, and 135 affordable rental apartments. Buildings heated by this project will include SDCC's County Hall and Tallaght County Library as well as 135 new Affordable Apartments and the SDCC Innovation Building.
"The Tallaght Scheme shows how public-private collaboration using well-established district-heating technology can harness the significant recyclable-heat resource of AWS data centers," Eddie Conroy, County Architect for SDCC, said last year. "This project will meaningfully contribute to helping Ireland achieve its 2030 sustainability targets, and we look forward to future collaborations with AWS towards a low-carbon future in South Dublin."
"We are pleased that our data center in Tallaght offered a unique opportunity to reuse heat and provide it to the local community," added Kenneth Matthews, head of energy, EMEA, Amazon Web Services. "It's a win-win when we can identify a special project that uses our infrastructure to support the climate goals of the community."