Australian data center firm DXN is to supply mining company AngloAmerican with a modular data center.
The data center company this week announced it had signed an AU$1 million (US$677,200) contract with the mining firm to manufacture and deploy a prefabricated module at a CapCoal mining site in Queensland, Australia.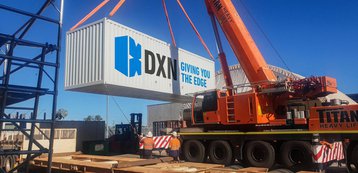 Specifications of the module weren't shared. Delivery of the module is expected around September 2023. The contract includes an option for DXN to maintain the facility for five years.
DXN CEO Shalini Lagrutta said: "DXN has developed a standard design for AngloAmerican's Australian modular data center which is fit for purpose for their mining site requirements. DXN's team is thrilled to be involved in AngloAmerican's deployment in the CapCoal mining complex in Queensland.
ASX-listed DXN currently operates three data centers; the 4,351 sqm (46,800 sq ft), 5.5MW DXN-SYD01 in Sydney, a second facility in Hobart, Tasmania, and a 350 sqm (3,700 sq ft) bunker with two data halls in Darwin.
The company also manufactures modular prefab data centers, and has delivered more than 18 modules to customers including gold-miner Newcrest to a site in New South Wales, as well as Boeing and Covalent Lithium.
It has also supplied prefabricated cable landing stations for the Belau Submarine Cable Company for its new cable spur to Palau as well as to Sub.co for a landing station on the Cocos (Keeling) Islands for the Oman – Australia Cable.
In August 2022, data center firm DXN announced that it was going to be selling all 'business assets and subsidiaries' to Flow2Edge, the new data center investment platform from investment manager PAG Real Estate. By September, the deal was amended for Flow to only acquire DXN's modular manufacturing unit, before falling through entirely by November 2022.
At the time DXN did not expand any further on why the sale was abandoned, other than to say that the "transaction would not proceed after a significant condition precedence was not fulfilled."