Microsoft's giant data center complex in North Holland consumed 84 million liters (84,000 cubic meters) of water during 2021, a year when heat caused severe water shortages.
Microsoft, and the municipality of Hollands-Kroon, had previously said the Middenmeer facility would only need 12m to 20m liters per year, but local news outlet Noordhollands Dagblad uncovered figures which revealed the site, where Microsoft runs multiple data centers, used 84 million liters. Google also runs large data centers in the same area using the same cooling technology.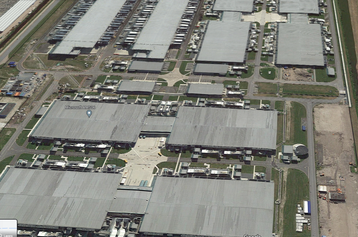 The figures emerged during a time when the Netherlands has announced a drought, but Microsoft has responded to explain that they include a large amount of water consumed during construction of the next phase of the data center.
Opposition in Hollands Kroon
Microsoft's activities in Middenmeer have faced long-running opposition from farmers over their water consumption, but the Hollands-Kroon municipality approved new Microsoft data centers there early in 2021, alongside the existing plant. This proved controversial, with the province of Noord-Holland attempting to over-rule that decision, and the Hollands-Kroon municipality backing the Microsoft proposal.
The data centers, along with extensive facilities owned by Google. are located in Wieringermeer, a "polder," a low-lying tract of land protected from flooding by dikes - and another objection claims that their presence will demand new dikes be built.
The damning water consumption figures have been revealed, shortly after a new Hollands-Kroon council signaled an apparent change of heart. In June, the council called for a pause in data center building in the area. The whole of the Netherlands currently has a nine month ban on hyperscale data centers, and Hollands-Kroon is one of only two areas exempt, where new giant facilities can proceed.
Another giant proposal, Facebook's bid to build in Zeewolde, was also allowed under the ban - but has also been canceled after local protests.
Air-cooled - till the weather gets hot
Like almost all large data centers, Microsoft's facilities normally use outside air for cooling, but bring in water for cooling when temperatures are too high for air cooling. Noordholland's Dagblad reports that Microsoft and the municipality issued low estimates for the likely use, saying the annual consumption would be 12m to 20m liters.
The municipality has adjusted its published water consumption figures, which make clear that Microsoft used 75m liters for cooling its data centers, and 9m liters for "other things." Microsoft has responded to say that this usage includes a lot of water used in construction, and also ignores the fact that a lot of water was returned for other users.
The government site also reveals that all the data centers in North Holland, including the Wieringermeer facilities of Microsoft and Google and all the data centers in Amsterdam and Haarlemmermeer, used 550 million liters of drinking water. This amounts to a small amount (0.5 percent) of the total supply of drinking water, which was 112 billion liters.
During 2021, the consumption increased as new data centers were built on the site - it can be assumed that 2022's figures will be significantly higher, both because the new facilities will be operating all year, and also because the weather has been significantly hotter, so water cooling will be triggered much more often in the data centers.
Microsoft says it only uses water for cooling when outside temperatures are over 25°C, a limit which was only exceeded on six days during 2021, according to weather data. These temperatures will be exceeded much more often this year: the Middenmeer weather chart shows temperatures of 26°C or more on six days during the last two weeks.
Rainwater proposal
Microsoft has proposed that in future it will collect rainwater at its Middenmeer sites, a move which it says could make it "a net supplier instead of a user." However, this idea won't affect the current situation: reports suggest that the idea is still a proposal and there are no dates for when any trial period will begin.
Microsoft has promised to be water positive by 2030, a pledge that has also been made by Google. DCD has contacted Microsoft and Google to ask for more information about water use in the Netherlands.
Updated: an earlier version of the story said that hyperscalers in Wieringermeer used 550 million liters of water in 2021. This figure is in fact the total for all data centers in North Holland. The article has been corrected.
Also , Microsoft has contacted us to explain that the water consumption figure refers to the the construction phase of the Middenmeer datacenter rather than its operations phase. The original 12-20m liter estimate refer to the data center's fully operational phase, but construction is water-intensive,.
"The mature data center is on track to consume 10 million liters each year. This gives us confidence that our yearly 12m-20m liters estimate is still accurate.," said the statement.
The water consumption figures also do not take into account any water that was discharged back to groundwater or to third parties.> "While 84 million liters were withdrawn in 2021, 36 million liters were discharged back to the region's supply. This brings total consumption closer to 48 million liters."