A flurry of new hyperscale developments in Hollands Kroon may lead to millions being spent on flood defenses.
In the Netherlands, the higher the economical value of an area, the more likely it is to receive larger dikes to defend against floods and a rising sea level.
The dikes are built with taxpayer money, at a cost of around €5-15m ($5.8-17.6m) per kilometer.
For breaking data center news, features, and opinions, subscribe to DCD's newsletter
Move over Project Natick, here's another Microsoft data center below the sea (level)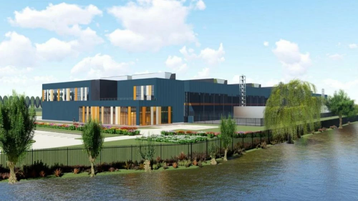 "The placement of data centers increases the economic value of an area below sea level, which can lead to further elevation of dikes, which is financed by taxpayers," provincial authorities warned in a letter to Hollands Kroon, first reported by De Telegraaf.
Both Google and Microsoft are spending billions on the data centers, which will be around six meters below sea level.
"Just assume that the sea level will continue to rise for a while," water safety expert Prof. Frans Klijn of Deltares told De Telegraaf.
"Then you can ask yourself whether it is desirable in the long term to invest in large-scale industry in areas well below sea level."
He added: "For decades there has been a plea not to build on a large scale in these areas, but in the meantime, it is happening anyway."
Dike elevation is not guaranteed - flood defenses are tested every 12 years, and when the next test comes the data centers' value will be included in calculations. Economic impact, potential casualty numbers, and other factors affect how much money the government will put into protecting the region.
If and when such an infrastructure endeavor is started, "the costs go to a water board and via the water board tax to companies and residents," the provincial authority said.
Residents are also concerned about a separate issue with water: Whether they will be able to drink it.
Local officials last year held an internal webinar warning that there might not be enough drinking water if more hyperscale data centers were built, and said they were not sure whether data center water cleaning chemicals would enter the drinking supply.
The Dutch Data Center Association told DCD that the water figures shared were "based on incorrect figures and assumptions."