Six years ago, Google applied for a license to get detailed South Korean mapping data from the National Geographic Information Institute (NGII). Its application was rejected.
Now, as the company once again tries to get its hands on the information, it has become embroiled in a dispute over data sovereignty, national security, taxes and local competition that have seen some call for Google to set up a dedicated Korean data center.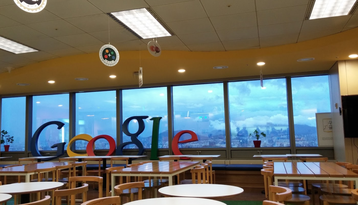 Mapping the problem
Google, a subsidiary of Alphabet, is requesting 1:5,000 scale map data, which would be the most detailed among all location datasets currently available in Korea. As Google has no data centers in the country, and it generally stores its map data on its cross-border cloud, this would mean that the valuable information would be stored outside Korea.
An existing legal act on the collection and management of spatial data states that any maps or photographs for survey are prohibited from being manufactured and transported out of the Republic of Korea, thus leading to a crucial disagreement between the country and the US-based megacorporation.
Currently, Google leases its map data from SK Telecom's T-Map service hosted on third-party servers in South Korea, but that means traditional Google Maps services that users in other countries have come to rely on are unavailable in the country.
3D Maps, driving directions, walking directions, cycling directions, real time traffic, car navigation and indoor maps do not work in South Korea. Ironically, however, some of these features are available in North Korea.
Also in contention is Google's policy on blurring sensitive locations, such as military and government structures. While it blurs out the images to visitors from within Korea, it usually does not blur out buildings to Maps users overseas. This is in line with its maps policy for disputed territories in East Asia.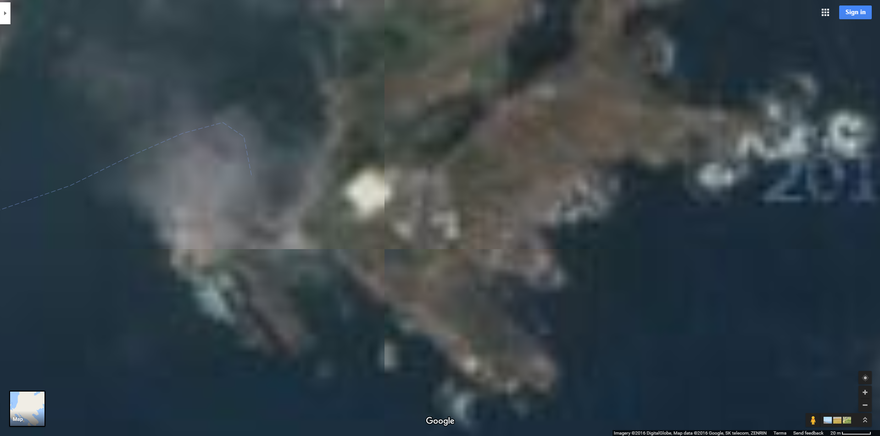 "This is why we have separate domain services," Google Korea software engineer Kwon Bom-jun told the WSJ. "Once we start to unite the features, that will make chaos for other countries, too."
Google is concerned that blurring parts of a country for all users will open a pandora's box of demands from nations the globe over. South Korea, meanwhile, says it is concerned about national security.
Korea is technically still one nation gripped by a civil war that has been in the state of 'cease fire' since 1953, with North and South both claiming sovereignty over the whole peninsula.
Tensions have continued to escalate between the two states in recent years, with the North launching another ballistic missile test (this time into Japanese waters) just today in what it says is an exercise simulating pre-emptive strikes against South Korean ports and airfields used by the US military.
Later this month, the US and South Korea are to go ahead with their annual military drill that consists of a number of war games that keep the notion of a Korean war in mind.
With the mapping regulation, "the main point is national security," Kim Tong-il, an official at South Korea's Ministry of Land, Infrastructure and Transport which oversees mapping policy, told the WSJ.
A deputy director at the National Geographic Information Institute also said: "Our attention lies more in national security and in how Google references Korea's easternmost Dokdo islets on Google Maps seen from outside of Korea. Google Korea doesn't seem to be interested in complying with our request such as blocking the visibility of key military facilities on the map."
Google, however, insists the data it is asking for does not contain any "sensitive information," and has suggested that the rule is outdated and unfairly benefits the local competition.
While Google enjoys a considerable market share of online search and navigation services in most nations around the world, it lags behind its South Korean rivals in the country.
Naver Corporation, perhaps best known globally for its Line messaging service, dominates the search and mapping market in Korea with its Naver search engine, while Kakao Corp also has a strong mapping market share.
Both companies use government-supplied mapping data that comes to them already blurred or camouflaged. The incumbents' services include many that are lacking from Google, including real-time traffic data.
With numerous companies such as Uber and Airbnb relying on Google Maps data globally (at least for now), Google argues that the laws hamper technological innovation in a country that has benefitted greatly from recent technological advances.
A solution?
Korean civic group the Green Consumer Network believes that they have a panacea to the growing disagreement between the Google and government camps. "Google can put an end to the issue by establishing a data center here," the group said in a statement. 
The GCN also suggested that Google's decision to not open a facility in Korea was a way to get around paying taxes: "Under the current legal system, it is hard for the nation's tax regulator to measure how much they make in profits here," he said. "But Google will not be mired in any tax-related disputes here once it establishes a data center."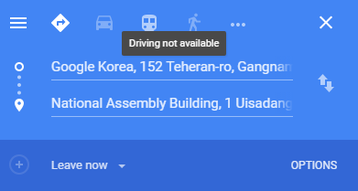 Naver's founder and chairman of the board, Lee Hae-jin, concurred. He said: "A corporation that is on the up and up should pay taxes on its earnings within a country to that country, and it should be open and transparent about where it keeps data on its users and how it uses that data. We're not saying they should stop providing their service here but that they should keep the servers in country.
"With Google's technology, keeping servers here in Korea is not a problem at all. How can a corporation that's not doing what it's supposed to do ask to have the laws changed? Do you think the government and the media would stand still for it if Naver tried that?"
Google is currently mired in tax disputes and controversies around the world, including in the UK, France, Russia, Italy, Australia and Korea, with the phrase 'Google Tax' entering common parlance in reference to multinational corporation profit-shifting.
"Google is complying with any tax regulations not just in Korea, but other countries it operates in," Google's Kwon Bom-jun said.
He continued: "Google services, including Google Maps, are provided on a cloud platform basis, which means that the data Google uses have to be stored across multiple data centers around the globe. Even if Google were to build a data center in Korea, a map data export license would still be necessary to offer full Google Maps services in Korea for worldwide users."
Numerous Korean government bodies, including the Ministry of Science, ICT and Future Planning and the Ministry of National Defense, are expected to hold a meeting next Friday to discuss the issue.
The special coalition will announce their final decision on August 25.