Digital Realty has signed a 7.5-year power and renewable energy credit agreement with Citi to provide power to its 13 data centers in the Dallas, Texas area.
The deal, which sources energy from the Bearkat II Wind Energy Project, supplies around 30 percent of the data center giant's power needs for the region. Customers will have to choose to use the renewable energy, which will be available from June 2021.
Breath of fresh air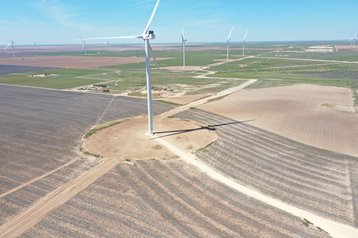 The transaction provides Digital Realty with more than 260,000 megawatt-hours of renewable energy annually, 55 percent of the expected output at the Glasscock County wind farm.
"The data center industry underpins the growth of the digital economy, and we believe it is critical for industry participants to recognize the importance of managing the environmental impact of their digital infrastructure," Digital Realty CEO A. William Stein said.
"We're dedicated to supporting our customers with sustainable, highly resilient facilities that leverage renewable energy and other energy-efficient technologies. We're proud to be partnering with Citi, a proven leader in sustainable financing, to bring clean, renewable energy to our customers and we look forward to furthering our sustainability strategies with customers across the region and around the world."
Last year, Digital Realty signed a long-term power purchase agreement to use solar power for a portion of its Northern Virginia portfolio, and a utility green tariff to supply renewable power to its Oregon campus.
Renewable energy contracts have become increasingly popular in the data center markets - and not just because increasingly climate conscious customers are requesting it more and more. The cost of renewable energy agreements is often competitive with traditional fossil fuel contracts, without the wild price swings.
Earlier this year, Aligned said that it would match 100 percent of the IT loads across its data centers with renewable energy. The move follows several other data center companies announcing plans to go fully renewable energy (or at least REC)-powered. Switch shifted in 2016, followed by Iron Mountain in 2017, and Data4 the year after.
QTS plans to hit 100 percent by 2025, while Equinix says it is a "long-term goal." As for the larger tech companies and cloud hyperscale giants, Apple, and Google are already 100 percent renewable energy-powered, Facebook expects to hit the target by the end of the year, and Amazon Web Services has given itself until 2030.
Microsoft, meanwhile, currently has the most ambitious plans - while its data centers won't be fully renewable energy-powered until 2025, the company as a whole expects to become carbon negative just five years after that. By 2050 it expects to have removed all the carbon it has emitted since its founding in 1975.