Amazon CEO Jeff Bezos has pledged to make his company carbon neutral by 2040.
The world's richest man promised to hit several milestones before that date, with 80 percent of Amazon's retail and data center operations' electricity needs supplied by renewable power by 2024, and 100 percent by 2030. It is not clear how much of that electricity will come from power purchasing agreements, and how much will come from actual new energy infrastructure build outs.
A start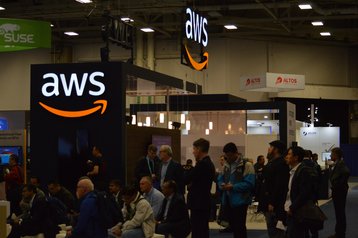 "We're done being in the middle of the herd on this issue - we've decided to use our size and scale to make a difference," Bezos said.
"If a company with as much physical infrastructure as Amazon - which delivers more than 10 billion items a year - can meet the Paris Agreement 10 years early, then any company can. I've been talking with other CEOs of global companies, and I'm finding a lot of interest in joining the pledge."
As part of the pledge, Amazon will invest $100 million in reforestation. It also plans to order 100,000 electric delivery vehicles from Rivian, a startup which Amazon has invested $440m into.
Amazon's move came after the company's own employees protested its attitude to climate change, and tried to pass proposals at the most recent shareholders' meeting to "address the climate crisis."
Organizers 'Amazon Employees For Climate Justice' welcomed Bezos' announcement this week, but noted: "Amazon still has work to do: halting its support of the fossil fuel industry, stopping donations to climate-denying politicians and think tanks, and stopping enabling the oppression of climate refugees."
Environmental activist organization Greenpeace, which has long tracked the fossil fuel dependency of AWS data centers, said in a press statement: "If Jeff Bezos wants Amazon to be a leader on climate, he needs to spell out exactly how it is going to rapidly move the company off of fossil fuels to keep our planet within the 1.5 degree temperature threshold in the Paris Agreement that Amazon has now committed to.
"Throwing money at carbon offsets and continuing to support the oil giants find even more oil is an early indication that Jeff Bezos doesn't understand the transition that is needed."