Iron Mountain's three data centers are now entirely powered by renewable energy (via a power purchase agreement), with the company commiting to a 25MW, 15-year deal with a recently opened wind farm in Ringer Hill, Pennsylvania.
The company said that the agreement not only reduced its environmental impact, but also its operating costs. The move additionally provides long-term utility price stability.
Joining the club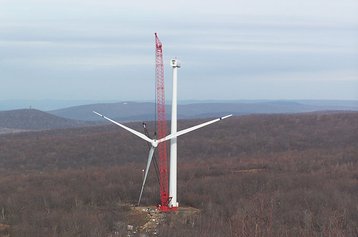 "One of the first challenges of our sustainable energy strategy is finding ways to beat the conventional wisdom that growing our business means bigger environmental impacts," Kevin Hagen, director of corporate responsibility at Iron Mountain, said.
"Our renewable energy initiatives are a great example of adopting innovative ways to serve customers with better, financially attractive solutions that can reduce our climate and environmental impacts at the same time."
Mark Kidd, SVP and GM at Iron Mountain, added: "As our data center business grows, we're always looking at how best to address power considering it's the largest operational cost and environmental concern.
"Locking in a long-term, reliable and renewable energy supply ensures price stability and cost control, delivering savings back to both Iron Mountain and our customers. Sourcing 100 percent renewable power, along with our Better Buildings Initiative pledge to reduce energy intensity across the data center portfolio, positions Iron Mountain and our customers to meet the growing demand for data center services with affordable, clean, sustainable power."
The company currently operates a data center in Boston, underground facilities in Pittsburgh and Kansas City, and is building a Northern Virginia data center to open this August.
Iron Mountain had planned to go 100 percent renewable in December 2016, announcing the move in October when it expanded its Pittsburgh site. But the wind farm Iron Mountain chose had a rocky launch.
New Jersey Resources' subsidiary NJR Clean Energy Ventures first opened the 39.9MW windfarm in Ringer Hill at the end of last year, but in January had to shut the site down after a malfunction. One of the 320-foot tall turbines saw one of its 177-foot long blades break off only a few weeks into operation.
Investigations appear to still be ongoing as to the cause of the malfunction, but the site is now live again.
The deal - which comes despite recent moves by the Trump administration to roll back climate change legislation and promote coal power - means that Iron Mountain has joined several other data center companies pursuing 100 percent renewable energy, including Google, Amazon and Switch.