European operator Data4 has made a commitment to renewable energy, while publishing sales results that show a rapid growth in data center capacity - particularly in France.
During 2016, Data4 sold 10.2MW of capacity, and increased the pace of building within its campus at Saclay, south of Paris, where new data centers are now opening every six months. At the same time, the company announced a networked service called the Digital Hub, and promised a shift towards renewable energy and a scheme to reuse its waste heat.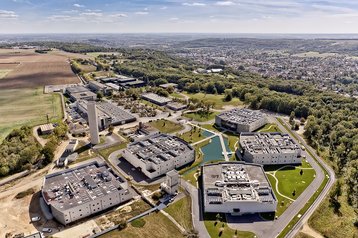 Paris growth
"We are driving our growth at a very sustained pace," said Data4  CEO Olivier Micheli. "Just ten years after the launch of our first data center at the former Alcatel campus in Marcoussis which has become the Paris-Saclay campus, we have been building a new data center every six months, and we will be sustaining this pace over the next two years."
Although Data4 has facilities in Italy and Luxemobourg, More than three quarters (7.5MW) of its 2016 growth was in the Paris site, a campus which was originally an Alcatel research site, turned over for data centers, and spun off as Data4.
Data4's new growth in 2016 amounted to 3,000 IT racks equivalent to an area of 14,000 sq m. The French expansion accounted for some 40 percent of the new capacity in shared data centers in Paris, according to the CEO, Olivier Micheli. 
Data 4 opened a new data center in the France site in December 2016, taking it to six live buildings, each with four halls on two floors. The next one is due to open in mid 2017.
During 2017, the company will be installing a heat reuse system, which will warm greenhouses close to the data center campus. The company plans to move to greener energy in 2018, and ultimately use 100 percent renewable power, said Micheli.