American infrastructure specialist Switch has announced plans to supply the upcoming data center complex in Michigan with 100 percent renewable energy.
The Michigan SuperNAP, which is being constructed around the landmark building known as the Steelcase Pyramid, is expected to cost around $5 billion.
The company has also subscribed to the Renewable Energy Buyers' Principles, developed by the World Resources Institute (WRI) and the World Wildlife Fund (WWF) in order to articulate the common needs of large renewable energy buyers.
Electricity for the Michigan site will be provided by local utility Consumers Energy. "We are excited to partner with Switch to make the largest data center in the eastern US the greenest," said Garrick Rochow, Consumers Energy's vice president and chief customer officer.
Super-green SuperNAP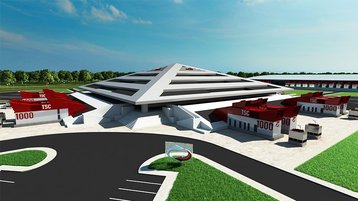 The Michigan SuperNAP will be located in Gaines Township near Grand Rapids. The building at the center of the campus was formerly owned by Steelcase, the largest office furniture manufacturer in the world, and is still popularly known as the Steelcase Pyramid.
Some of the building's unique features include an exterior of glass and granite, a two-level industrial underground complex and 'Synergy', the only spherical compound pendulum in the world that constantly swings in the atrium between the points of sunrise and sunset.
Switch made the decision to build in Michigan after obtaining sales taxe and personal property tax exemptions from the state government. In return, the company has promised to bring 1,000 new jobs to West Michigan, along with $5 billion of new investment over the next 10 years.
Switch has been an active proponent of renewable energy for several years, being the first data center provider to join the American Business Act on Climate Pledge in 2015.
In January 2016, the company already announced that its data center campus in Las Vegas, Nevada will be powered exclusively by renewable energy. The same will apply to the upcoming SuperNAP in Reno, which is expected to become the world's largest data center campus once complete.
To achieve these goals, the company is funding the construction of a 180MW solar farm in Nevada, built by utility company NV Energy using solar panels from First Solar.