Data center provider Aligned Energy will match 100 percent of the IT loads across its data centers with renewable energy.
The company - which operates in Texas, Arizona, Utah, and Virginia - will work with local utility providers and purchase bundled Renewable Energy Credits (RECs).
Aligned Green Energy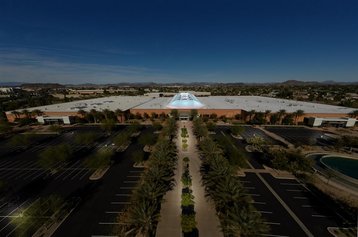 "Aligned is committed to powering our data center portfolio with renewable, clean energy and working with clients to achieve our shared carbon-reduction goals," Andrew Schaap, CEO of Aligned, said.
"Our focus is to provide ultra-efficient, rapidly deployable and sustainable data center solutions that enable customers to scale easily and efficiently as their business grows while supporting a clean energy future."
The move follows several other data center companies announcing plans to go fully renewable energy (or at least REC)-powered. Switch shifted in 2016, followed by Iron Mountain in 2017, and Data4 the year after.
QTS plans to hit 100 percent by 2025, while Equinix says it is a "long-term goal," and Digital Realty is fully renewable energy-powered for its US retail colo sites (but global transition efforts are still underway).
As for the larger tech companies and cloud hyperscale giants, Apple, and Google are already 100 percent renewable energy-powered, Facebook expects to hit the target by the end of the year, and Amazon Web Services has given itself until 2030.
Microsoft, meanwhile, currently has the most ambitious plans - while its data centers won't be fully renewable energy-powered until 2025, the company as a whole expects to become carbon negative just five years after that. By 2050 it expects to have removed all the carbon it has emitted since its founding in 1975.
For the next issue of DCD>Magazine, we talk to Aligned CEO Andrew Schaap about the company's new business strategy, and the fate of its subsidiary, Inertech.
Elsewhere, for the cover, we look at the impact of climate change on the data center and telecoms industries, from rising sea levels, to storms, and wildfires. Subscribe for free today.